Silk and Snow vs Douglas
See how the Douglas Mattress stacks up against Silk & Snow
We've provided an in-depth review of the Douglas Mattress and taken the opportunity to compare it against Silk & Snow, one of the leading Canadian Mattress Brands. All of the information presented in this review is accurate as of 7/18/2021.
If you'd like to jump right to the review, click the link here.
What Makes Silk & Snow Different
True High-Density Foam
At Silk & Snow, we strictly use 4lb High-Density Memory Foam in our S&S mattresses. 4lb memory foam ensures your mattress is not only more comfortable, but also built to last. Other companies like Douglas claim to use "high-density" foam, but often use foams that are 2.5 lbs in density.
Total Transparency
We stand by our products and what goes in to them. That's why we offer total transparency and disclose everything about our materials and manufacturers. Douglas does not do this.
Easily Washable
Everybody wants to enjoy a clean sleep. That's why our S&S Mattress features a fully removable and machine washable cover, which makes cleaning an absolute breeze!
Silk & Snow vs Douglas Mattress
S&S Mattress

Douglas Mattress

Douglas Mattress

Price (Queen Size)
$800
$750
4lb. High Density Memory Foam

2.5lb foam
Shipping Weight (Queen)
76 lbs
70 lbs
Premium Anti-microbial Cover
Made in Canada
Warranty
15 Years
15 Years
Douglas vs. Silk & Snow Firmness
In comparison to our memory foam S&S Mattress, the Douglas Mattress is a touch softer, though they are both on the medium-firm side as far as feel goes. If you'd like to compare this in more detail, you can jump ahead to the
"Douglas Mattress Construction and Materials"
and learn more.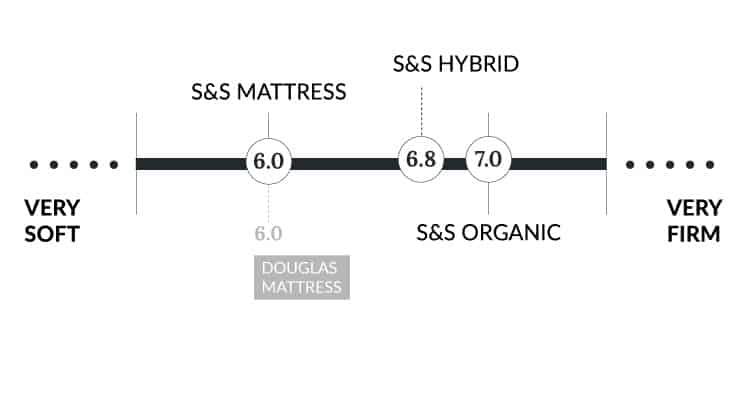 Douglas Mattress Review
If you'd like to dive deeper into the details, we have provided an in-depth analysis of the Douglas Mattress.
Jump to any section by clicking the links below: