Gentle & Soothing
There's a reason muslin fabrics are the choice textile for babies; they're soft and perfect for a pleasantly cozy sleep.
Gentle & Soothing
There's a reason muslin fabrics are the choice textile for babies; they're soft and perfect for a pleasantly cozy sleep.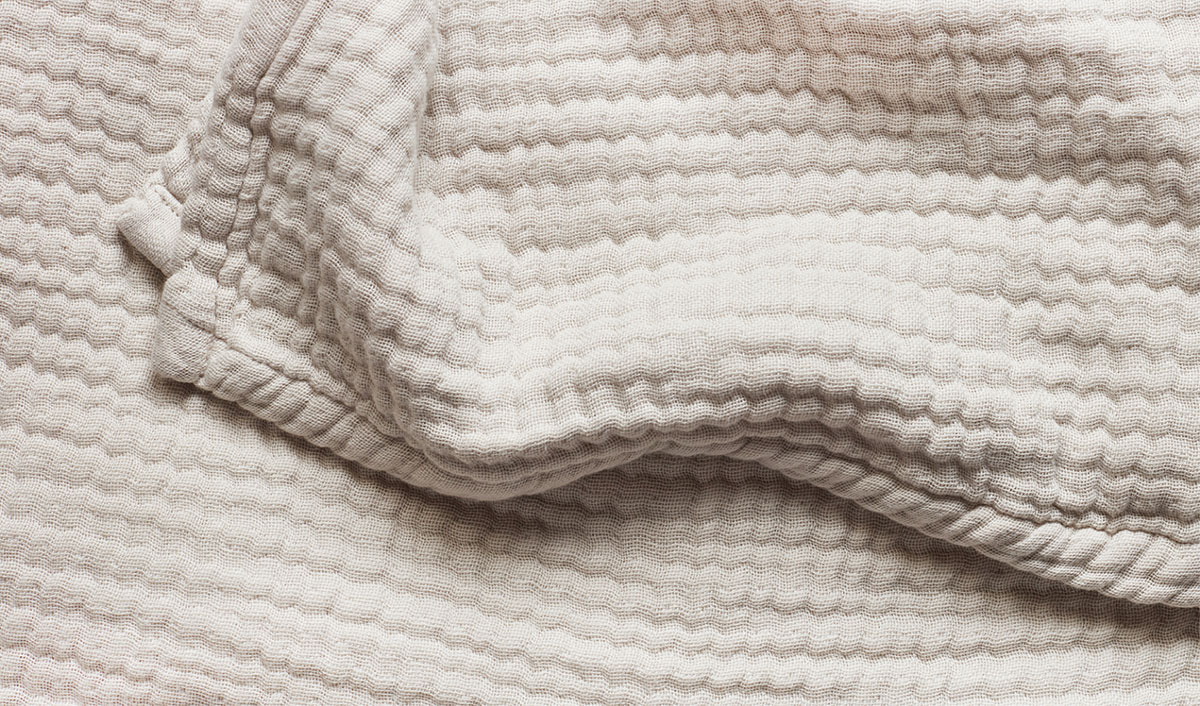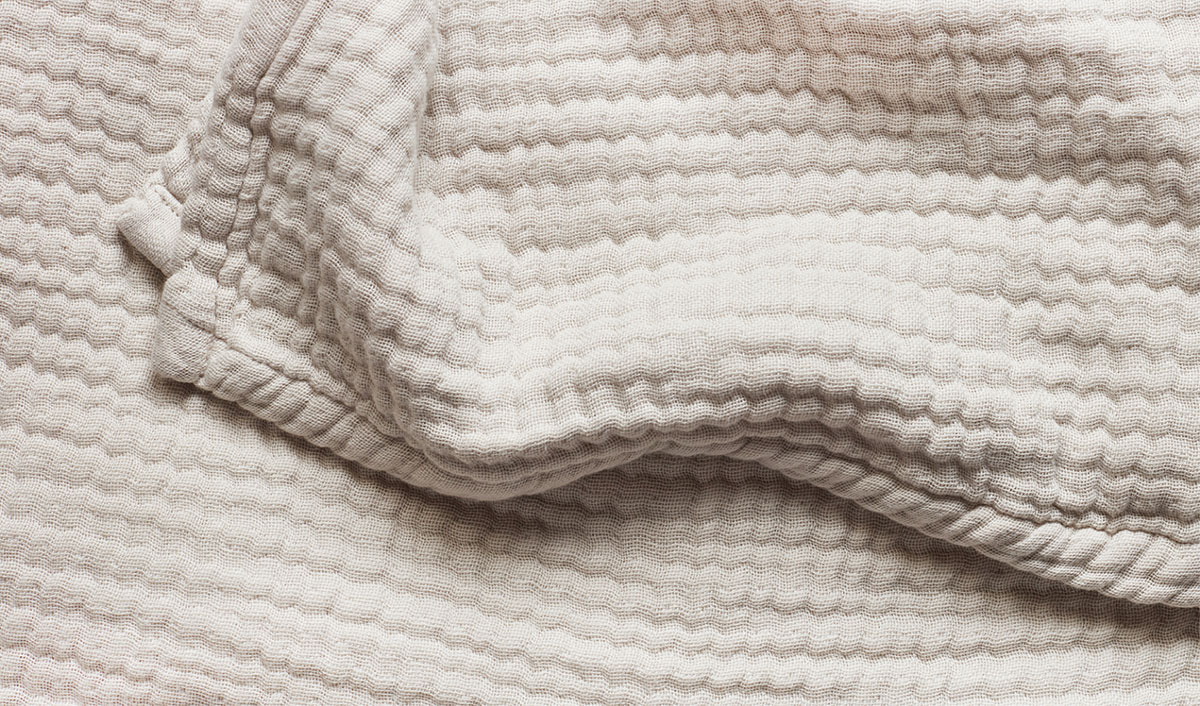 Cool Comfort
Sleep hot? Our 100% cotton Muslin is cool and breathable, naturally. No more night sweats.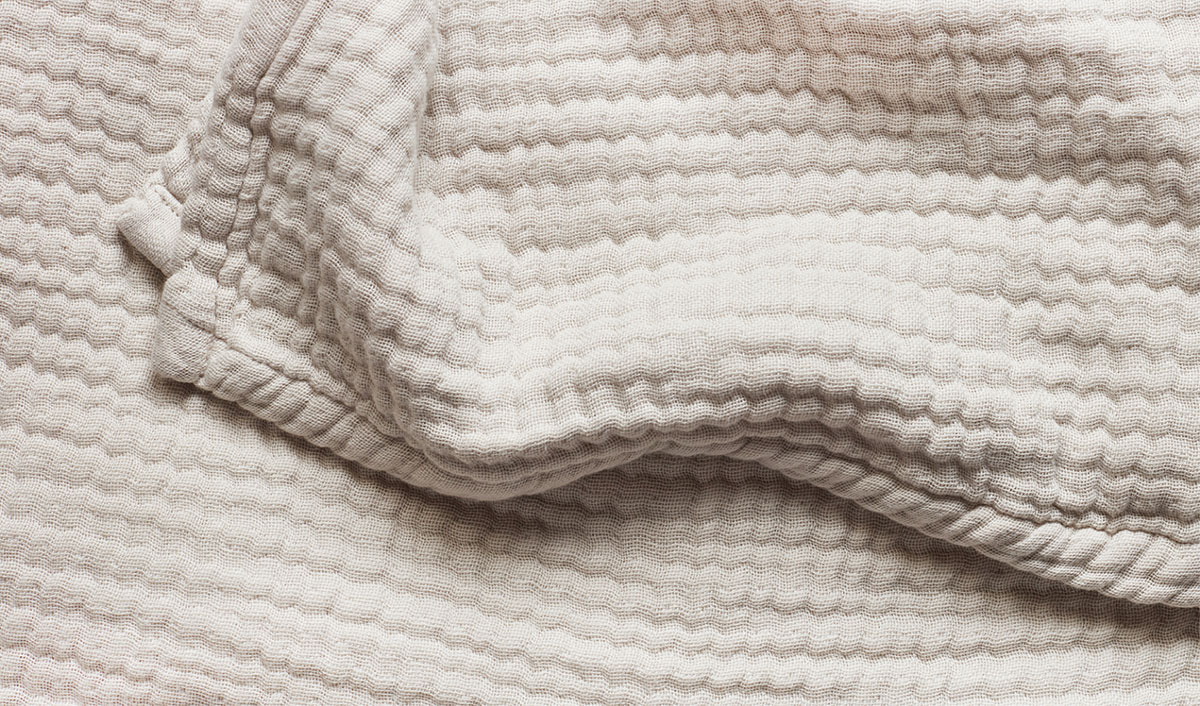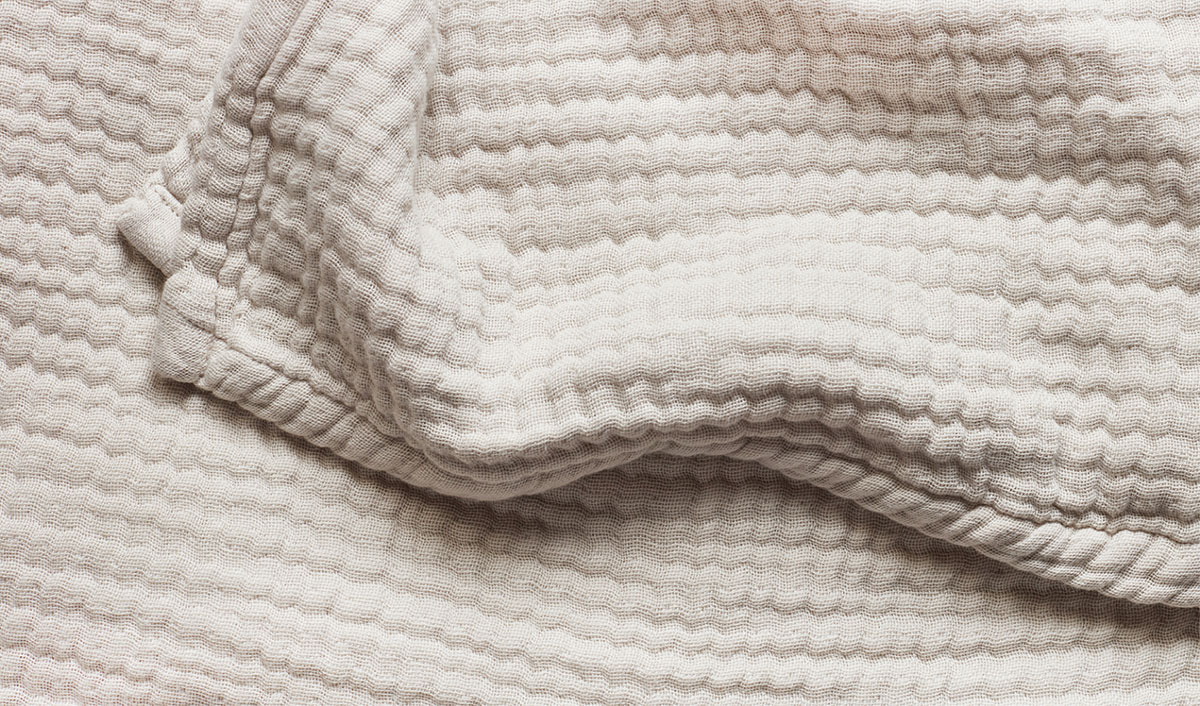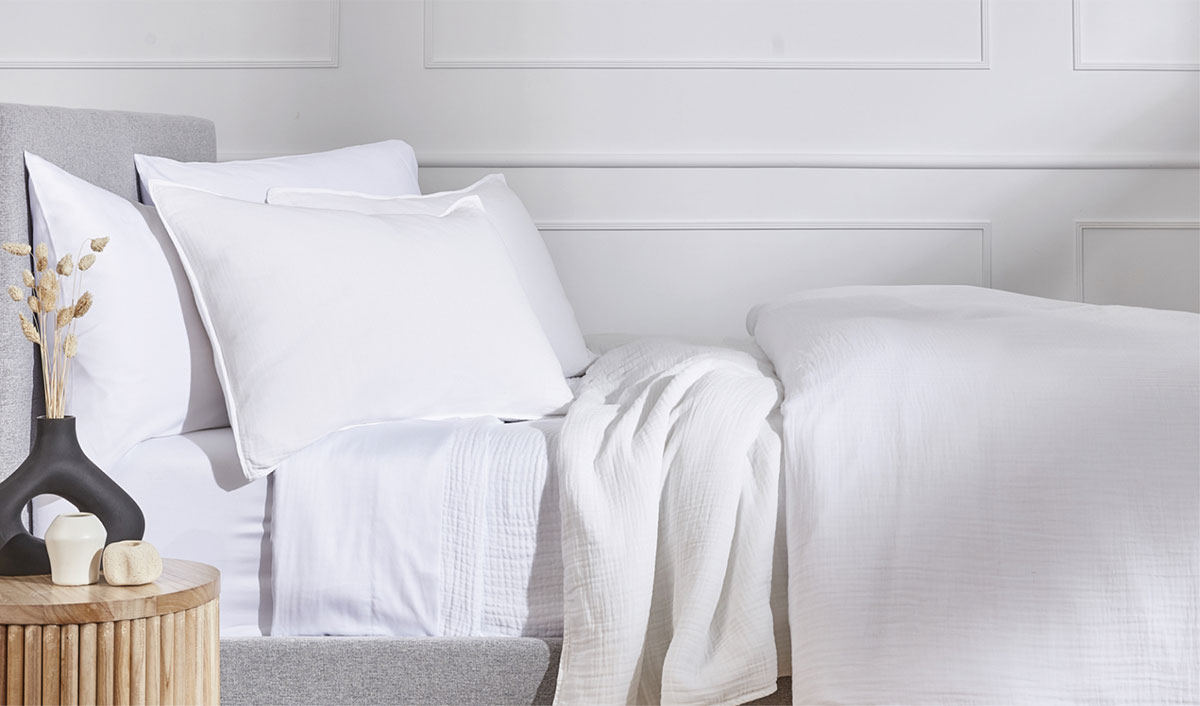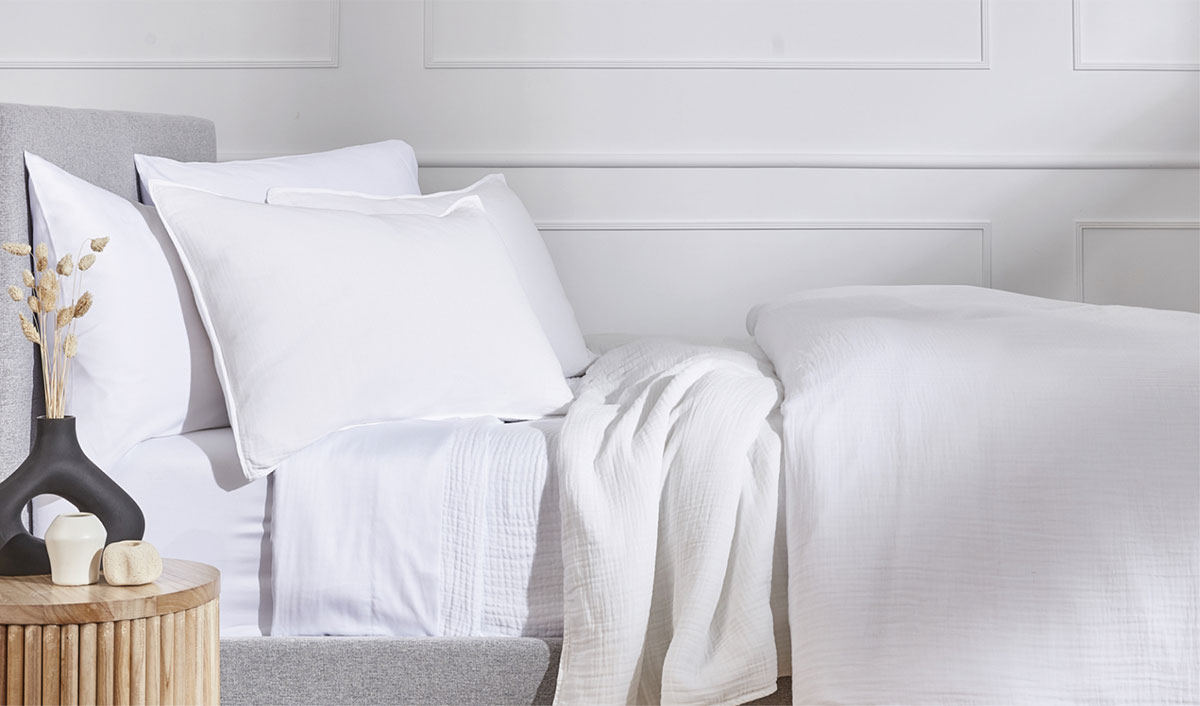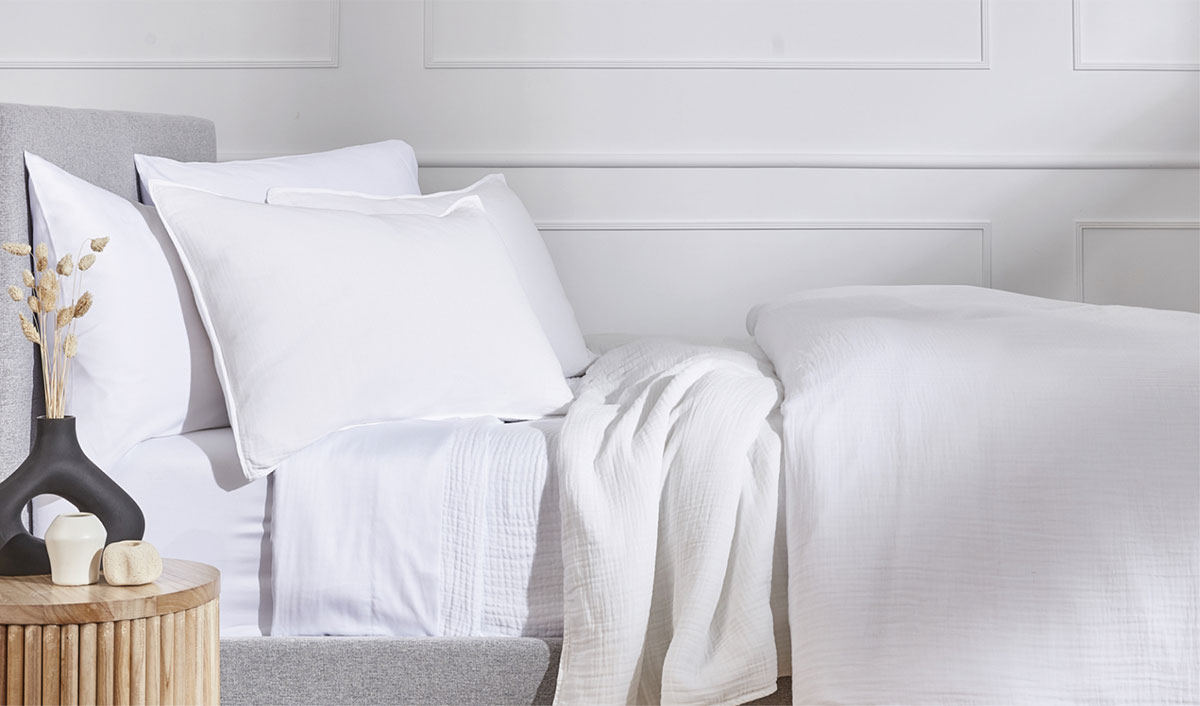 Beautifully Curated
Our Muslin bedding features double gauze quilt blankets, coverlets, and shams, allowing you to perfectly curate the look and feel of your bed.
Transparency at Every Step
At Silk & Snow, we firmly believe that customers deserve to know where and how their products are being made. That's why we've outlined the entire manufacturing process of our Muslin bedding, showcasing exactly what goes in to our premium sleep products.
1
Yarn Spinning
Natural cotton is spun in to usable muslin yarn by the Marinho family, who own and operate a textile company in Santo Tirso, Portugal. The Marinhos use modern solution to uphold the values of environmental consciousness in the fabric spinning industry.
2
Textile Dyeing
The fabric is then dyed at a textile processing facility in Guimarães, Portugal. This facility is dedicated to preserving the environment by minimizing atmospheric emissions and wastewater discharges.
3
Cutting and Sewing
The fabric is cut and sewn at Allcost Textiles in Guimarães, Portugal. Allcost Textiles is a fresh face in the storied Portuguese textile industry, and strives to ensure environmental sustainability.
4
Washing
At this stage, the muslin is then specially washed in Guimarães, Portugal. This distinctive washing process produces the unique texture and feel that makes so many sleepers fall in love with muslin.
Frequently Asked Questions
What makes muslin special?
We'll put it simply for you; it's soft, it's breathable, and it's cozy! Muslin bedding is also perfect for sleepers who sleep hot, as the unique weave of the fabric allows for a cool sleep.
How does muslin bedding feel?
Muslin bedding is among the softest available, which is why it's the preferred bedding material for babies. Additionally, muslin gets softer and softer with each washing, making this bedding oh-so-cozy.
What is the thread count of your muslin bedding?
With muslin bedding, the weight and number of layers are a more accurate indicator of quality than the thread count. Our Muslin Quilts, Duvet Covers, and Shams feature a GSM (grams per square metre) of 165, and are constructed using 2 layers of muslin.

Our Muslin Coverlet features a GSM of 400, and is constructed using 4 layers of muslin.
What type of enclosure do your duvet cover and gauze shams feature?
Our muslin duvet cover and shams feature a beautiful button enclosure, which is made from coconut shell.