Endy vs Casper
See How Endy and Casper Stack up Against Silk & Snow
We've taken the opportunity to compare Endy and Casper against Silk & Snow, one of the leading Canadian mattress brands. If you'd like an in-depth mattress review, read on to learn more.
What Makes Silk & Snow Different
Fair Pricing
At Silk & Snow, we follow a simple rule when setting prices, which is to charge what we need, not what we can. We price based on what it costs to make a product and build in a fair profit. We do not spend significant amounts on marketing or paying affiliate commissions, and prefer to let our product speak for itself.
Transparency
We stand by our products and what goes in to them. That's why we offer total transparency and disclose everything about our materials and manufacturers. Endy and Casper do not disclose the densities of every single foam layer used in their mattress.
Silk & Snow vs Endy vs Casper Mattress
Endy

Endy

Casper

Casper

Price (Queen Size)
$800 - $1,400
$895
$795 - $3,645
Highest Density Layer
4lb gel memory foam
or
D65 organic dunlop latex
No longer discloses
Will not disclose
Mattress Height
10-12 inches
10 inches
10-13 inches
Mattress Type
3 – Foam, Hybrid, or Organic
No Choice
5 – Foam or Hybrid
Anti-Microbial Cover

(Foam or Hybrid Model)
Machine Washable Cover

(Foam Model)
Edge Support

(Hybrid or Organic Model)

(Hybrid Model)
Warranty
15 years
10 years
10 years
Trial Period
100 days
100 days
100 days
Manufactured
Canada
Canada
USA/Mexico or Canada
Casper vs Endy vs Silk & Snow Mattress Firmness
Our S&S Mattress is comparable in firmness to the Casper Wave Hybrid and Nova Hybrid mattresses, while slightly softer than the Endy Mattress. Our S&S Hybrid and S&S Organic mattresses are slightly more firm. If you'd like to compare this in more detail, you can jump ahead to the
"Transparency in Foam Quality"
section and learn more.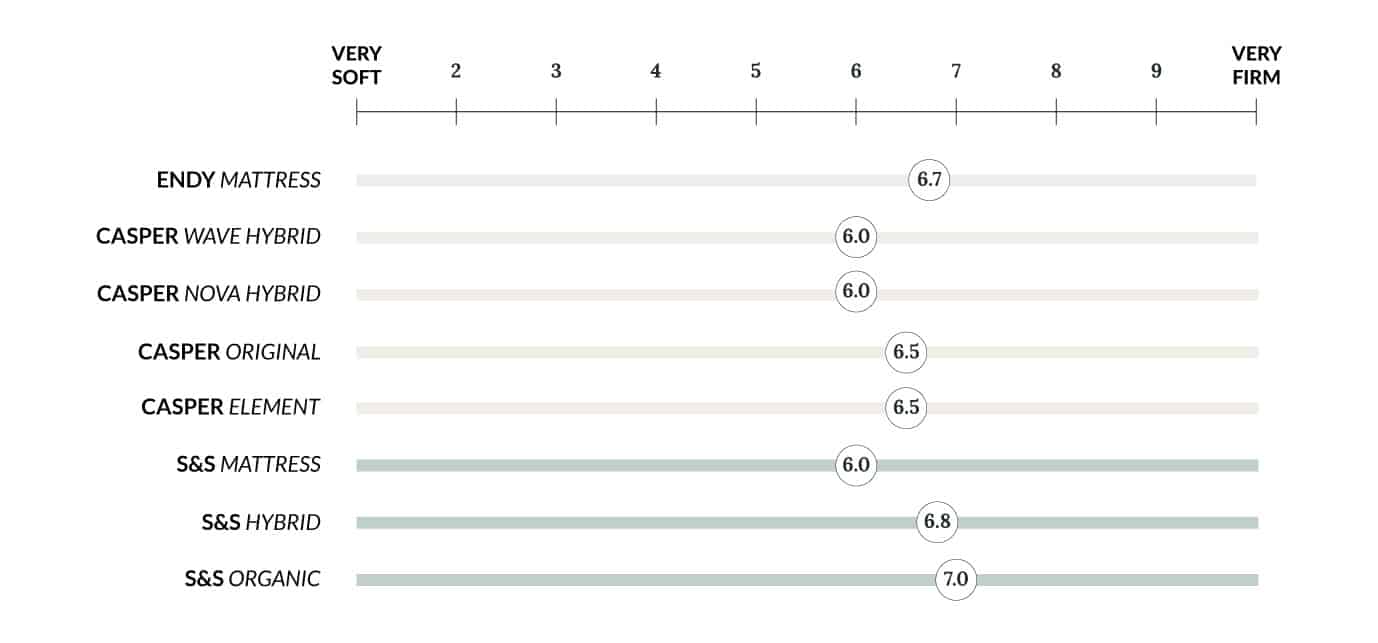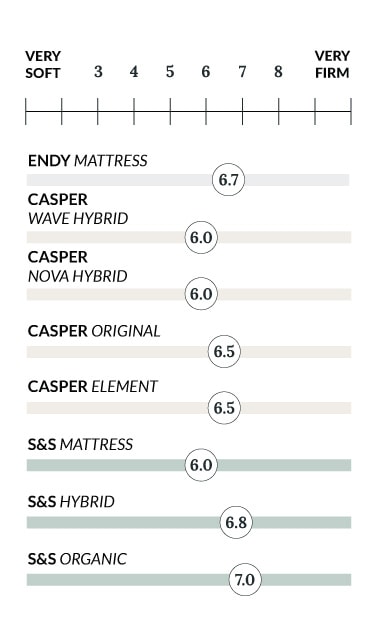 Endy vs Casper vs Silk & Snow
Jump to any section by clicking the links below: