Many Canadians don't take back pain seriously, but in reality, 4 out of 5 adults will experience back pain at some point in their life¹. A good mattress can make all the difference when it comes to back pain. In some cases, the bed itself might be the cause of your problem. There's a common misconception that the firmer the mattress, the better it is for your back. That's not actually true. Instead, there are certain features you should look for in a mattress to ensure it maximizes support and spinal alignment. Continue reading to see if your mattress is the cause of your back pain and which bed you should look for to improve your aches.
Is my mattress causing my back pain?
Your back pain goes away throughout the day:

Do you feel pain when you first wake up? Does it fade away as the day goes on? If the pain goes away after about 30 minutes of getting out of bed, your mattress is probably the source of your problem.

You notice sagging indentations:

Your mattress will begin to sag for two main reasons: it's old or it doesn't support your weight. After years of sleeping on your bed, it will begin to deteriorate. This can occur even faster if the mattress doesn't support your weight.

You don't feel comfortable on your bed:

If your mattress feels flat and you feel pressure in your hips, shoulders, and knees, it could be causing strain on these areas, which leads to back pain.
Which sleep position is best for back pain?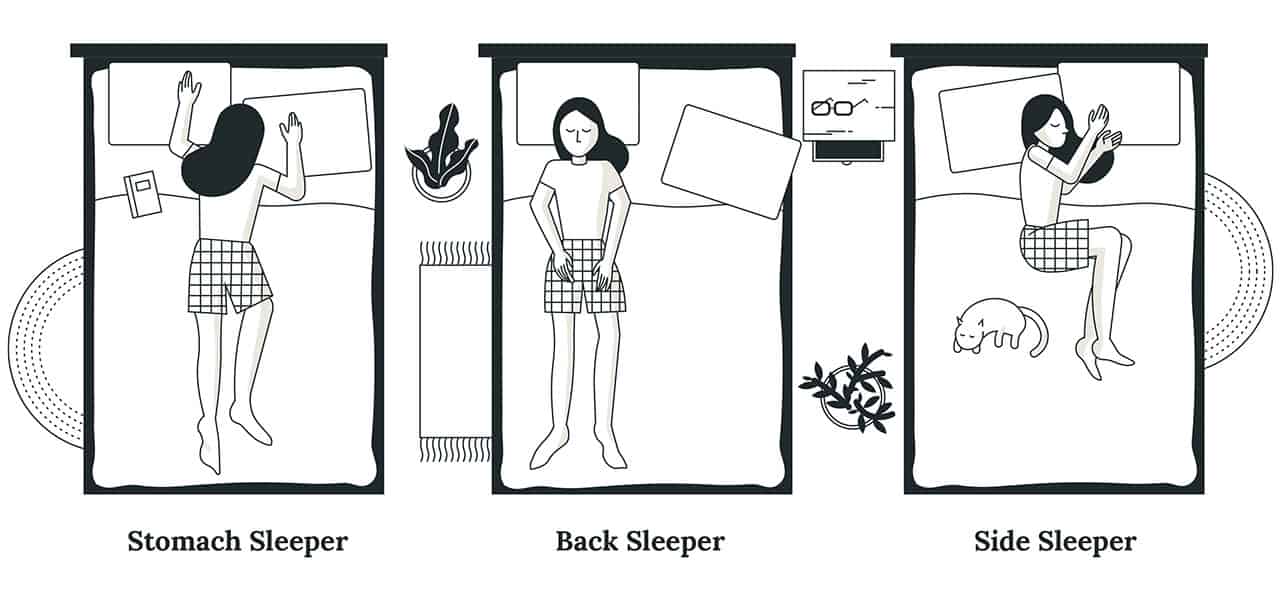 Your sleep position, along with mattress quality, can have a huge impact on muscle imbalance. Sleeping on your back, side, and stomach affects your back differently and it should actually be considered when you're deciding which mattress to get, as each sleep position requires a different mattress firmness for better back support.
| | |
| --- | --- |
| Firmness | Sleeping Position |
| | Back Sleeper: Sleeping on your back is considered the best position for back support. Your weight stays evenly distributed for better alignment. Good neck support is crucial in this position so ensure you're using a good pillow. You can even put a pillow under your knees to relieve pressure for your lower back. Aim for a medium to firm mattress (6.0-7.0 out of 10).  |
| | Side Sleeper: Side sleeping is one of the most common positions for sleep. It's great for your spine and keeps your airways open, preventing sleep apnea. However, it's important to switch sides from time to time so your body pressure doesn't always fall on one side, which can also cause muscle imbalance and pain. Aim for a medium firmness (5.5-6.5 out of 10). |
| | Stomach Sleeper: Stomach sleeping is the worst position for spinal alignment due to an imbalanced spinal position that causes stress in your back. To make matters worse, stomach sleeping gives you an awkward neck position, adding strain. If you can't help yourself from sleeping on your stomach, aim for a firmer mattress (6.5-7.5 out of 10). |
Which mattress type is best for back pain?

Memory foam mattresses are considered one of the best bed materials for back pain due to its contouring ability, providing great pressure relief and support. Latex mattresses have slightly less contouring ability, but still offer the same great benefits as memory foam. Hybrid mattresses can vary in their ability to improve back pain. A good hybrid mattress uses a high quality memory foam or latex top layer to ensure you still get the contouring for better support. The worst of the four is the innerspring mattress, because it consists mostly of coils and a thin top layer, so it generally does not contain the features necessary to help with back problems. All four of these mattresses have different feels and it's okay if memory foam isn't your style. What's most important is the support features of the mattress, not necessarily the mattress type.
Which mattress features are important for back pain relief?
Pressure Relief & Spinal Alignment
Pressure distribution relates to the support mechanisms found in targeted areas of the mattress to relieve pressure in certain body parts such as the hips and shoulders. The mattress does this by redistributing your weight or providing support to certain body parts. One study showed that properly distributed pressure actually improved sleep quality, making this extremely important for back pain relief.² High-density memory foam mattresses are known for their quality back support, especially due to the body contouring and pressure relief from the foam. For optimal relief, you'll want a density between 3-5 lb, such as the 4 lb S&S mattress.
A good mattress for back pain is based on the mattress' ability to keep your spine aligned so you can sleep comfortably. As previously stated, memory foam is great because it contours your body. It hugs your spine and keeps everything in place. The best memory foams, like the S&S mattress, will be crafted so it supports you, no matter your sleep position. Even if you prefer the feel of a hybrid mattress, the quality of the top layer can make all of the difference. Try looking for a hybrid mattress with a memory foam top, with a similar quality to a regular memory foam mattress so you can benefit from the same contouring support and pressure relief.
Foundation & Durability
A durable foundation means your mattress will keep its shape and supporting abilities for longer. The average lifespan of a mattress is 8 years, after which it will begin to deteriorate. A more durable mattress will have a longer warranty, just like Silk & Snow's 15 year one. Most of the time for those dealing with pain, the decision on what type of base works better comes down to your weight. An all foam mattress generally works better for lighter to average weight individuals, whereas those that are heavier tend to prefer a more rigid coil base. The choice is up to you, but finding the right foundation will impact the durability and amount of support of your mattress.
Do bed frames affect back support?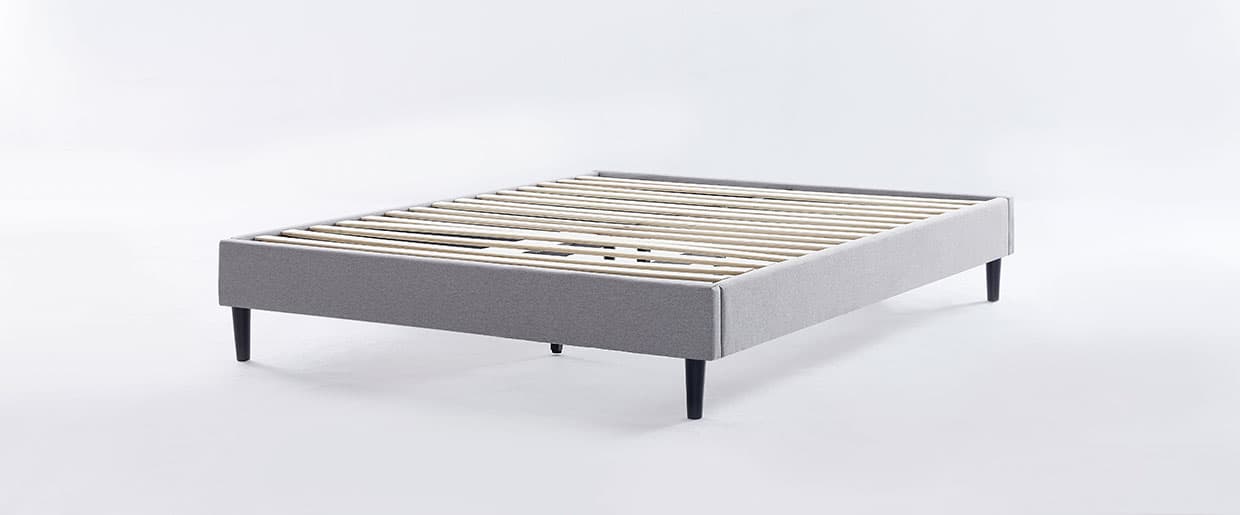 A good bed frame is just as important as the mattress itself. The frame acts as a support base for the mattress. If they slats are spaced too far apart, the mattress will sag overtime and lose its shape. We recommend either an entirely flat rigid surface, or slats that are 2 inches or wider and spaced no more than 3 inches apart. If you're having trouble finding a bed frame that meets this standard, Silk & Snow offers a variety of bed frame choices that meet this requirement.
Home Remedies for Back Pain
Back pain doesn't usually occur due to one singular issue. A good mattress can help, but it's not a cure-all. Try out some of these other proven methods and see if it helps with your pain:
Heat/ice

Back exercises

Stretching (especially before bed)

Find ways to reduce stress (meditation, going for walks, yoga, etc.)

Talk to a doctor if you're experiencing chronic or severe back pain
What is the best mattress for back pain in Canada?
Our premium S&S Memory Foam and S&S Hybrid mattresses were engineered with support in mind. Carefully crafted in Canada, we ensured that every layer of our mattresses provides proper spinal alignment and pressure relief. 
You should also consider the trial period in your purchasing decision. During this period, test out the mattress and see if it's actually making a difference. At Silk & Snow, we offer a 100 day trial period on our S&S high-density memory foam and S&S Hybrid mattresses, risk free. Try it today at silkandsnow.com!
 Sources:
Statistics Canada. (Apr. 2006). Back Pain. Government of Canada. Retrieved from https://www150.statcan.gc.ca/n1/pub/82-619-m/2006003/4053542-eng.htm
Z, Chen. & al. (Jun. 2014). Effects of Interface Pressure Distribution on Human Sleep Quality. PLoS One. Retrieved from https://www.ncbi.nlm.nih.gov/pmc/articles/PMC4055748/
Categories
S&S Mattress

Best Memory Foam Mattress
S&S Hybrid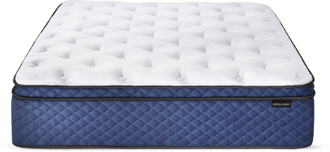 Best Hybrid Mattress
S&S Organic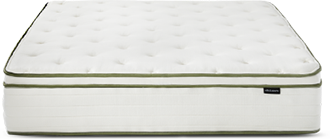 Best Organic Mattress