Buying a mattress can be overwhelming when having to balance personal preferences with physical requirements and budget. One factor that you definitely want to have "weigh in" on the decision making process is the weight of the sleeper. We believe we've designed the best mattresses in Canada with heavy people in mind. Now, I know what you're thinking — of course we would say our own mattresses are the best! Even so, while our original Memory Foam mattress is suitable for a lot of people, we don't believe it would meet the needs of heavyset sleepers.
If you or someone you know is looking to buy a mattress to support a heavier body weight, consider the Silk & Snow Hybrid and Organic mattresses. The S&S Hybrid mattress combines high-density memory foam with a high coil count, whereas the S&S Organic mattress combines 100% certified organic latex with coils to provide unrivaled support and durability — this is the ideal choice for heavy people seeking maximum comfort throughout the night, for years to come. 
Silk & Snow Coil-Base Mattresses
Designed with heavy people in mind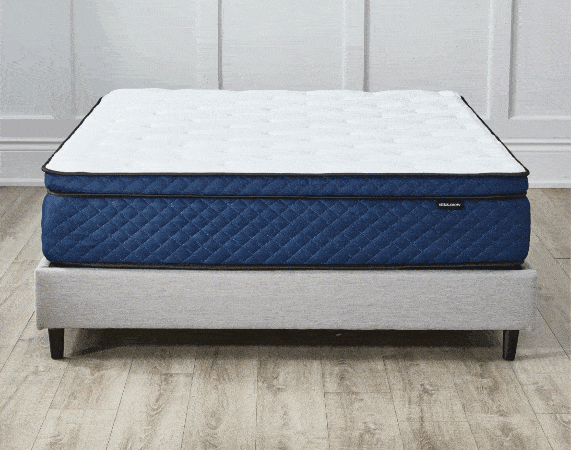 Hybrid Mattress: 

Pressure point relieving memory foam and a spring coil base 

Firmness rating: 6.8

Organic Mattress:

100% organic latex and innovative pocketed spring coils

Firmness rating: 7.0

Sizes: Twin, Twin XL, Full, Queen, King, Cal King

Price: $850 - $1600
Shop Now
We've created an extensive buyer's guide to help you find the best mattress for heavy people in Canada. Use this guide to help you form your own criteria:
What is the best mattress for back pain?
We know that shoulder blade pain, hip pain, and lower back pain are common among our heavyset customers, since these areas tend to be the heaviest parts of a person's body. A mattress should be able to contour to these pressure points in order to keep your spine aligned in a straight configuration. 
A mattress that is too firm will put pressure on the heavier parts of your body, which means you'll end up tossing and turning throughout the night. Too soft a mattress, and your muscles end up tensing to overcompensate for the lack of support. Latex mattresses have been shown to reduce body pressure and achieve a more even distribution of pressure compared to polyurethane mattresses across different sleeping postures1. Refer to our previous article to figure out which is the best mattress for back pain.
If you have a heavier midriff, you'll benefit from zoned support. This is when different types of coils are strategically placed to better balance your weight. In the case of Silk & Snow, we place firmer coils in the center and softer coils on the outside for optimal support. Our S&S Hybrid and S&S Organic mattresses also have zoned lumbar support in the form of a firmer middle zone. 
If I buy the firmest mattress then I'll get the most support, right?
Not exactly. Imagine a thin piece of very firm memory foam laid on a concrete floor, and now picture yourself laying on your side on it. While firm, it won't provide much support for your shoulder and hips at all. If you're someone who's a bit heavier, you'll want a bed with more support to prevent your body from sinking. Coil bases tend to do a better job of supporting heavier individuals compared to foam bases (i.e. 100% all foam mattresses), since the only way of making a foam base support a greater weight is to make the mattress thicker and firmer. However, foam softens quickly over time when subjected to heavier individuals and therefore quickly loses its support.
Also keep in mind that the mattress firmness advertised might actually feel softer to you if you're a heavier person. That's okay, as long as the bed isn't too soft to the point where you feel like you're sinking or where you can feel the base of your bed. 
My mattress gets too hot! What can I do about this?
Heavyset sleepers tend to experience temperature issues through the night, known as "sleeping hot". A coil mattress is your best bet since coils help the bed breathe by providing better air flow. We also recommend looking at the comfort layer material: latex is a natural plant-based product which, given its inherent porous properties, provides better airflow than memory foam. Memory foam's heat retention can make it difficult for you to fall asleep and stay asleep throughout the night. 
Cotton, wool, and other natural fibres are also great at regulating temperatures since they help wick moisture away from the body. 
If you're very sensitive to temperature, a natural mattress might be best for you. With an organic cotton cover, wool quilt, latex comfort layer, and pocket coil base, each component is designed to help you sleep cool. 
Is it possible to sit on the side of the bed without feeling like I'm going to fall off?
Whether you enjoy sleeping close to the edge of the bed or sitting on the side of your bed, an important feature that heavier individuals should look for is firm edge support. Mattresses with edge support should have an extra firm perimeter, like the one found in our S&S Hybrid mattress, which reinforces the structure and prevents flattening or sagging when sitting on the edge. Our S&S Organic mattress on the other hand, offers harder coils around the perimeter to provide edge support. Supportive edges allow you to climb in and out of bed more comfortably, and also increase the usable sleeping area of the bed, so your bed feels more spacious once you're lying down. 
I'm going to replace the mattress every 3-5 years anyways…can't I just buy the cheapest mattress?
We know it sounds crazy, but you don't actually need to be replacing your mattress that often! Latex mattresses are a lot more durable for heavier individuals, although they are a bit pricier. Latex doesn't break down and soften from stress the same way that memory foam does. Our 100% organic Dunlop latex mattress is an ideal material for heavier sleepers, as it has the ability to remain firm and responsive for decades. We offer a 15-year warranty on our mattresses to help you sleep easy, year after year.
What else do I need to think about?
Motion Transfer Isolation
Since most healthy sleepers move from 35 to 60 times a night, you'll want to make sure that you have enough space to do so comfortably without disturbing your own slumber or that of a sleeping partner, pets, or children that share the bed with you. 
Natural latex mattresses are also better at motion isolation, so even if your sleeping partner tosses and turns throughout the night, their movements won't affect your sleep.
All of our mattresses come in the full range of sizes: Twin, Twin XL, Full, Queen, King, and California King. Particularly tall individuals may wish to consider the California King size, which offers an additional 4" of length compared to the King size. 
Weight Limitations
While there is no specific weight limit to each mattress type, we don't believe a foam mattress is able to adequately support a bodyweight of more than 300lbs (per sleeping side) over time. For anyone exceeding this weight, we recommend a hybrid or latex mattress.
Bed Frames
Not all bed frames are created equal. When purchasing a new bed, you will need to take into account the overall weight capacity: that means the weight of yourself and anyone you may share the bed with. Our Full, Queen and King bed frames each have a weight bearing load of 1100lbs. 
What is the best mattress for heavy people in Canada?
Our premium Hybrid and Organic mattresses were engineered with heavy people in mind. Go compare the S&S Hybrid and S&S Organic to see which one works best for you!
Sources:
1 Low FZ. & al. (Mar. 2017). Effects of Mattress Material on Body Pressure Profiles in Different Sleeping Postures. J Chiropr Med. Retrieved from https://pubmed.ncbi.nlm.nih.gov/28228692/ 
Categories
S&S Mattress

Best Memory Foam Mattress
S&S Hybrid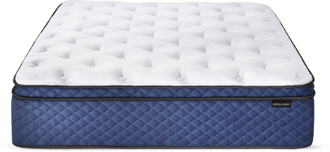 Best Hybrid Mattress
S&S Organic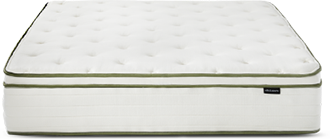 Best Organic Mattress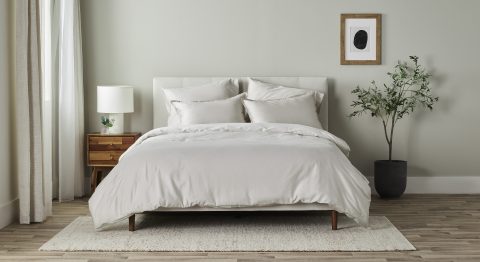 How we expand our product offerings as one of Canada's fastest growing sleep brands