Ahh, that feeling of finally tucking into bed at night and nestling your head into your pillow, is there anything better? Except, very often pillow purchases are made on a whim after spending so much time researching and deciding between mattresses. When you've got a great mattress but still wake with aches and pains, it's time to re-evaluate whether your pillow actually meets your sleeping needs. 
Silk & Snow Pillow:
Thoughtfully designed with adjustable comfort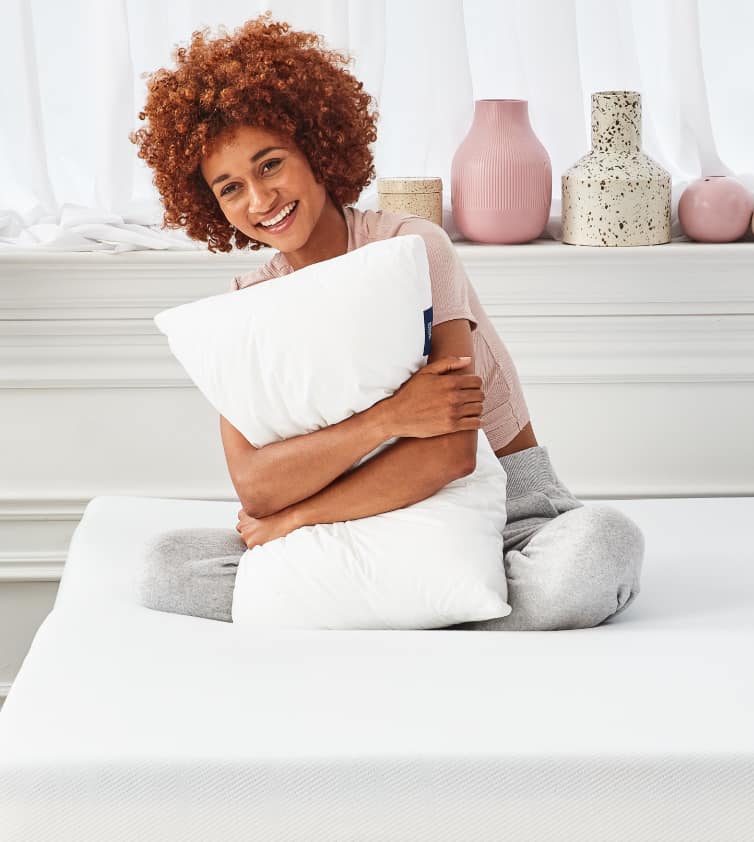 Plush microfibre with adjustable shredded memory foam to deliver maximum comfort

Standard: 

Fits queen/standard size (20" x 30") pillowcase

King:

Fits king size (20" x 36") pillowcase

Price: $80 - $90
Shop Now
We've created a buyer's guide to help you find the best pillows in Canada. Use this guide to help you form your own criteria:
Materials
Pillows nowadays can be made from a whole range of materials and, needless to say, the options can be overwhelming. Let's breakdown the pros and cons of a few of the more popular pillow options on the market.
Feather/Down
Pillows traditionally filled with bird feathers or down can offer a soft and fluffy feeling, however compression is an issue as it requires frequent fluffing to restore its loftiness. Over time, oils from the face and hair seep into the pillow and can cause the feathers to clump together, causing lumpiness and reduced loft. Price can widely vary depending on the ratio of down to feather fill. 
Memory Foam
Memory foam pillows are great for individuals seeking thicker and firmer support. Contoured pillows can be beneficial for providing neck support, however be aware of whether the height is right for your body and your sleeping style (more on this later!). Individuals who sleep hot will want to avoid memory foam as it can easily trap heat. 
Polyfill Fibre
Polyester fibrefill (aka polyfill fibre) can be a great, budget-friendly alternative to down for individuals looking for a soft pillow. It is hypoallergenic and vegan, avoiding any possible issues associated with animal cruelty in down collection. Some individuals may find polyfill to be too soft, however, and lack the support they need. 
How We Compare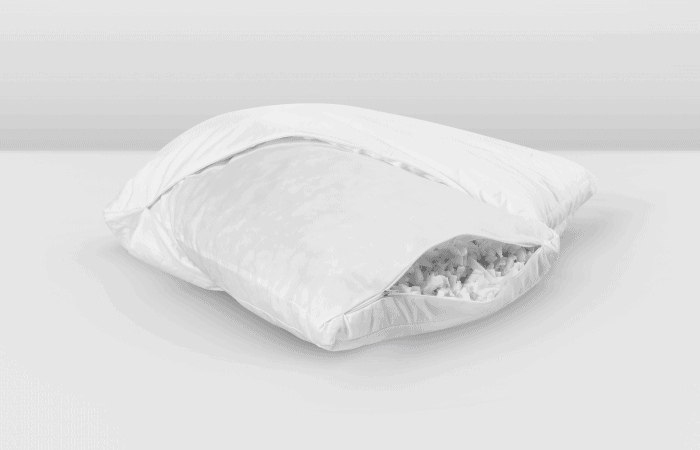 A hybrid pillow combining microfibre with adjustable memory foam offers the most versatility.We took a cue from Goldilocks and came up with a hybrid pillow option that's not too soft, not too hard, but just right. The S&S Pillow offers a down-alternative (microfibre) outer which is hypoallergenic, vegan, and is resistant to clumping and collapsing. Plus, we've implemented an inner core filled with shredded memory foam. Having the memory foam at the inner core and breathable microfibre fill the outer shell keeps you cool while you sleep. 
Sleep Position
Side Sleepers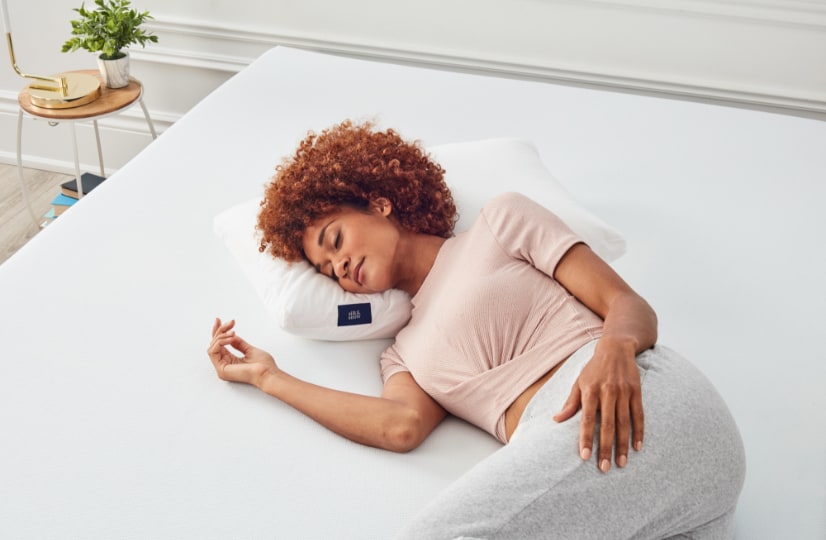 Side sleepers will need more loft to be able to support your head and neck and maintain proper shoulder and spine alignment. Since the entire length of the spine is susceptible to strain when you sleep on your side, double check that you have the
best mattress for sleeping on your side
.
Back Sleepers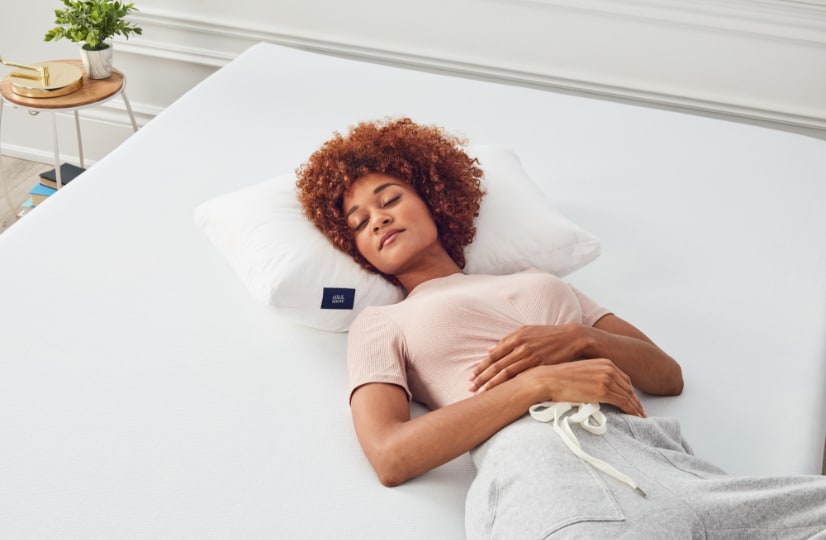 Back sleepers should look for a medium-high pillow to maintain alignment with the spine. Too high a pillow and you'll notice your chin dipping into an unnatural position, too low and your neck muscles end up tensing. Either will result in neck and/or shoulder pain the next morning.
Stomach Sleepers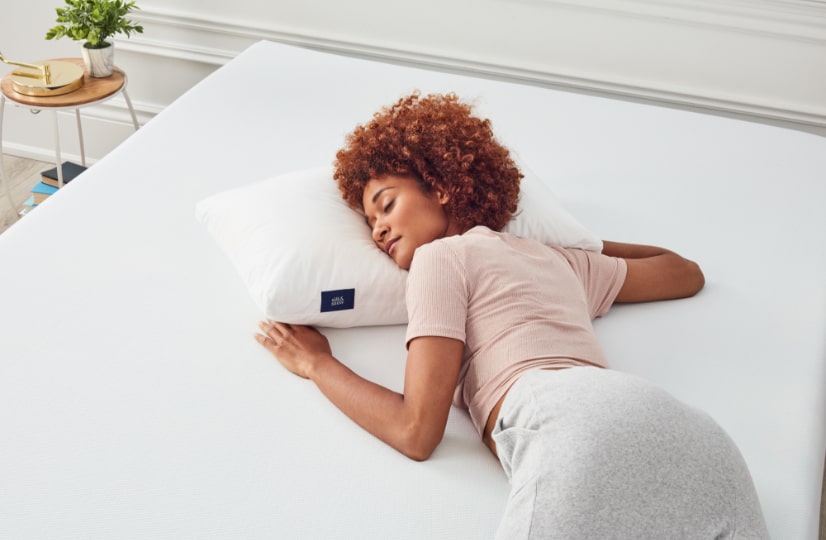 Stomach sleepers will need a low pillow to keep the neck straight. Too high a pillow here and the neck and back will end up arching unnaturally. 
Designed for All Sleepers
The reason that we've used shredded memory foam in the inner core is so that individuals can adjust the loft to fit their own personal needs according to sleeping style as well as size. Even if you and your child are both side sleepers, you'll want to make sure to decrease the loft for your child to fit their head and neck comfortably. You can then set the extra memory foam aside and re-adjust as your child grows! 
Durability
At Silk & Snow, we're focused on quality products that last. Instead of offering a dizzying array of pillows varying in firmness and loft — inevitably contributing to landfill as people struggle to try to find what works for them — we'd rather offer our customers one well-made, versatile pillow. We ensure that each component of our products meets our high standards, from our mattresses to our pillowcases. Our aim to reduce waste in the world in turn saves you money in the long run, as the cost per use of our quality products decreases overtime. 
While cheap pillows seem particularly friendly to the wallet after dropping hundreds of dollars on a mattress, down and low quality microfibre pillows tend to quickly flatten out and need to be replaced. When you consider cost per use, this ends up being a not-so-great option. 
Whereas many memory foam-filled pillows are made with recycled scrap foam, our hybrid pillow uses fill cut from brand new, high quality 2.5lb memory foam which is CertiPUR-US® certified and has been tested to ensure safety and quality, and that it is made without harmful chemicals, heavy metals, and flame retardants. 
Only fibres measuring one denier or finer can be categorized as microfibre. The microfibre we use to provide softness and comfort is ultra-fine (0.7 denier) and lasts much longer than lower quality polyfill fibre. 
Our pillows also feature an OEKO-TEX certified 100% cotton outer shell which is washable for easy care, and has also been rigorously tested to contain zero harmful substances. 
Trial Period
What's right for one person may not be right for you. We recommend adjusting the height of the pillow and sleeping on it for a few nights to see if any re-adjustments need to be made. 
What is the best pillow in Canada?
We're confident that we've designed a truly versatile pillow that can meet a variety of needs and can adapt as you grow or evolve sleep styles. Give the S&S pillow a try and see if it meets your own needs. Once you have your perfect pillow, you can switch up the linens so your bedding looks as great as you feel!
Categories
S&S Mattress

Best Memory Foam Mattress
S&S Hybrid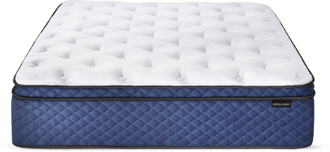 Best Hybrid Mattress
S&S Organic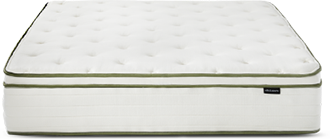 Best Organic Mattress