Endy vs Douglas
See How Endy and Douglas Stack up Against Silk & Snow
We've taken the opportunity to compare Endy and Douglas against Silk & Snow, one of the leading Canadian mattress brands. If you'd like an in-depth mattress review, read on to learn more.
What Makes Silk & Snow Different
Foam or Hybrid Coil?
Foam or hybrid coil? We understand that everyone is unique and we don't limit you to just one choice of a mattress. We offer an all foam or hybrid coil mattress design that has the same great feel but built for different body types and needs.
4 Lbs Means Quality
We use an industry leading 4 lb memory foam, which is one of the highest quality foams available in Canada and provides superior pressure point relief and unmatched durability. Over time, foam that is less dense will have a much shorter useful life and will soften faster over time.
Silk & Snow vs Endy vs Douglas
Endy

Endy

Douglas

Douglas

Price (Queen Size)
$800 - $1,400
$895
$749
Highest Density Layer
4lb gel memory foam
or
D65 organic dunlop latex
No longer discloses
2.5 lbs
Mattress Height
10 - 12 inches
10 inches
10 inches
Mattress Types
3 – Foam, Hybrid, or Organic

No choice

No choice
Anti-Microbial Cover

(Foam or Hybrid Model)
360° Removable Cover
Edge Support

(Hybrid or Organic Models)
Warranty
15 years
10 years
15 years
Trial Period
100 days
100 days
120 days
Manufactured
Canada
Canada
Canada
Douglas vs Endy vs Silk & Snow Mattress Firmness
Our S&S Mattress is comparable in firmness to the Douglas Mattress, while slightly softer than the Endy Mattress. Our S&S Hybrid and S&S Organic mattresses are slightly more firm. If you'd like to compare this in more detail, you can jump ahead to the
"Foam Quality"
section and learn more.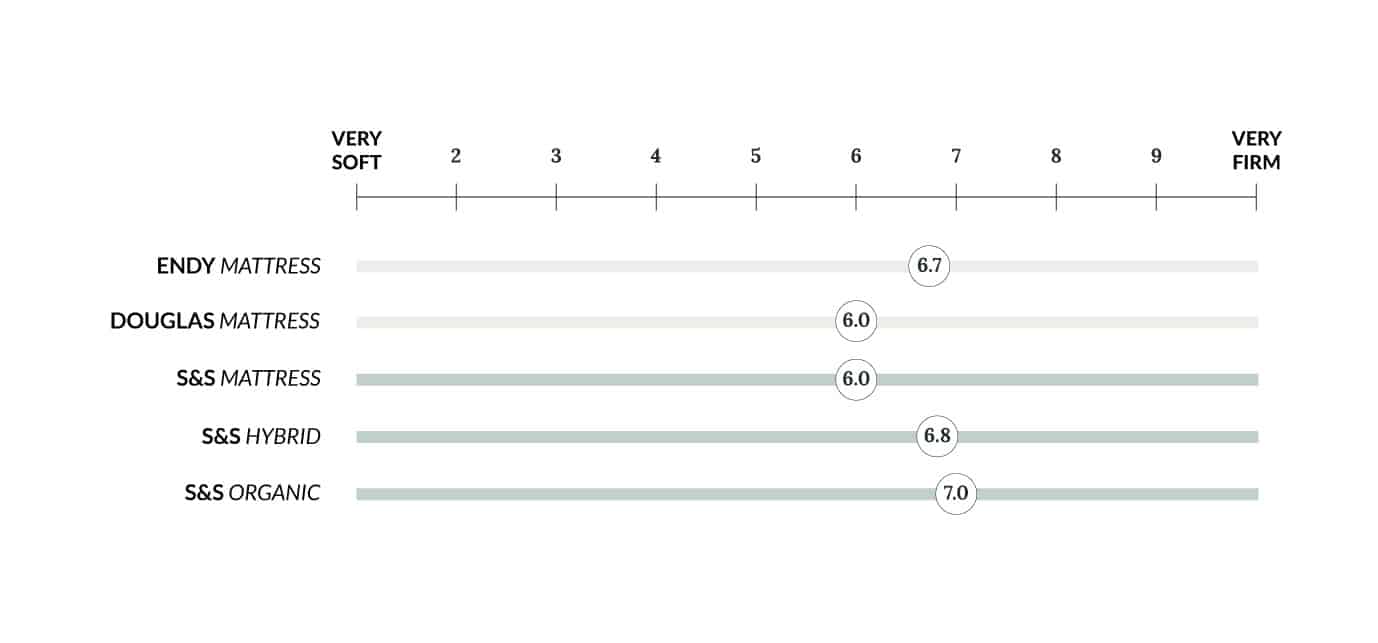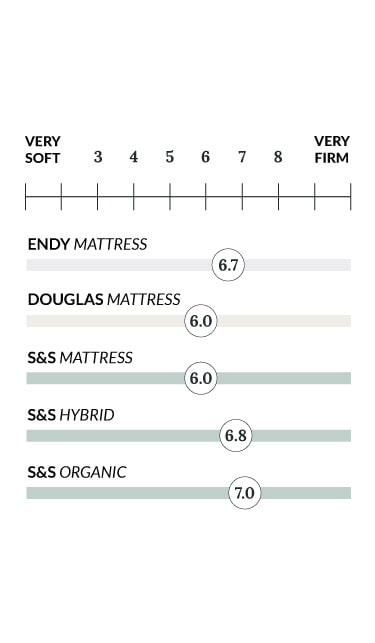 Douglas vs Endy vs Silk & Snow
Jump to any section by clicking the links below: