What Makes Silk & Snow Different
High Quality, Sustainable Materials
At Silk & Snow, we strictly use only the highest quality materials in all of our mattresses. Additionally, we make sure that all of our materials are tried and true when it comes to durability and sustainability. That's why we use high-density 4lb memory foam, not polymer.
Superior Coil Count
Making sure your body is supported at night is important. All of our Hybrid and Organic Mattresses feature a high coil count, meaning you can count on them to provide a seriously supportive sleep. Our Queen Hybrid and Organic Mattresses feature a coil count of 1000, while Purple's Queen Hybrid and Hybrid Premier have 540.
100% Made in Canada
Silk & Snow is a proudly Canadian company. That's why all of our mattresses are made in our hometown of Toronto, Ontario. Purple's mattresses are all made in the United States.
Silk & Snow vs Purple Mattress
Silk & Snow

PURPLE MATTRESS

PURPLE MATTRESS

Price Range
$600 - $1600 CAD
$574 - $3349 USD
100 Night Sleep Trial?
Free Returns?

Exchange Only (after opening)
Country of Origin
Canada
U.S.A.
Mattress Types
3 - S&S, Hybrid, Organic
3 - Purple Mattress, Hybrid, Hybrid Premiere
Warranty
15 Years
10 Years
Edge Support

Organic or Hybrid Models
Machine Washable Cover

Foam Model
Silk & Snow vs Purple Mattress Firmness
At Silk & Snow, we offer various different models of mattresses with varying levels of firmness, and Purple does the same. If you'd like to compare this in more detail, you can jump ahead to the
"Purple Mattress Construction and Materials"
, where we will analyze and break down the firmness and feel of each mattress Purple offers.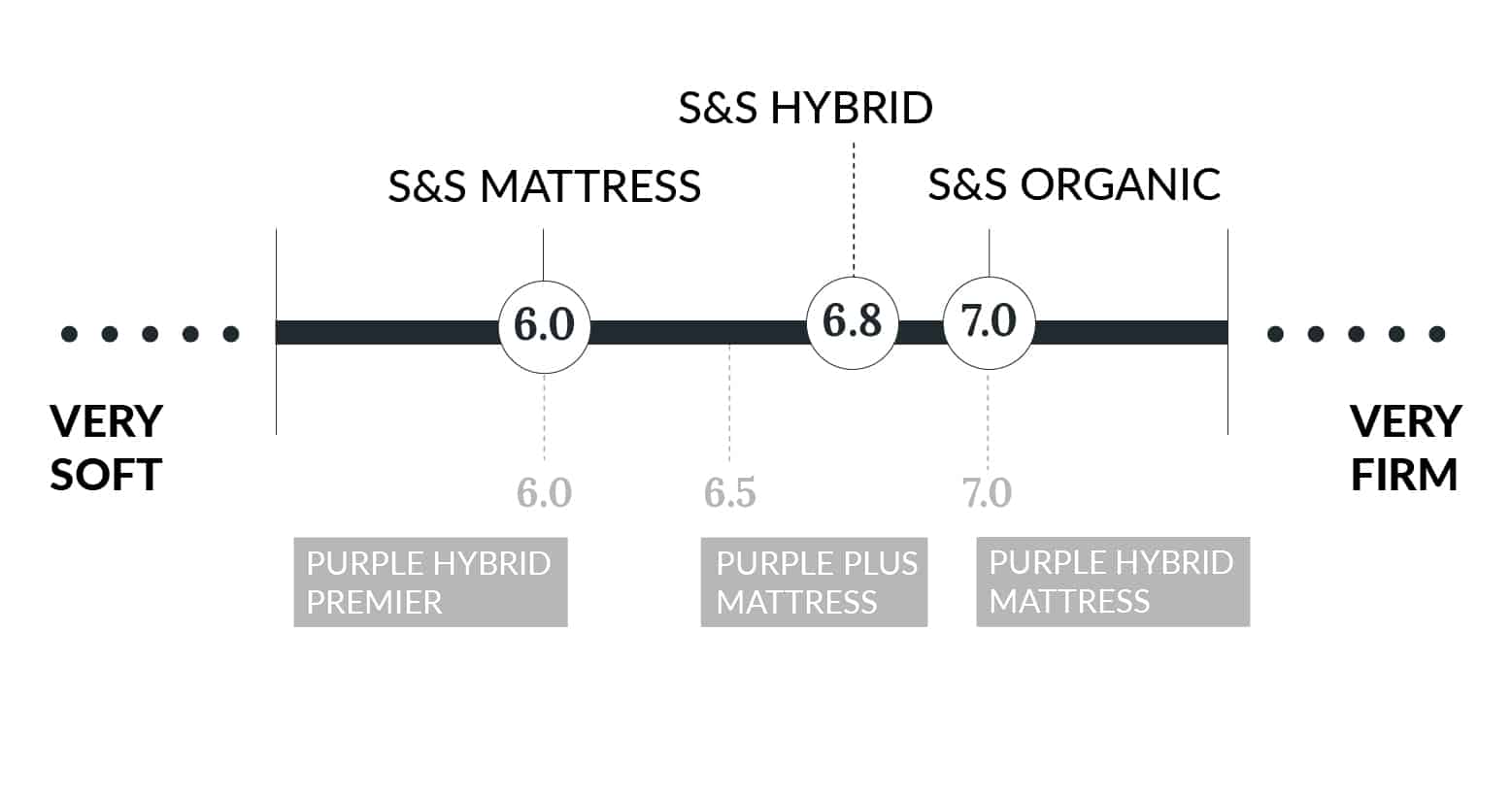 Purple Mattress Review
If you'd like to dive deeper into the details, we have provided an in-depth analysis of the Purple Mattress.
Jump to any section by clicking the links below: