A recent study showed that almost 80% of people are "satisfied" to "very satisfied" with their current mattress. 
As a bedding retailer, this is great news for us! As it indicates that companies like ours are doing their job and doing it well. However, what these studies often fail to illustrate is the unfortunate reality surrounding people and their mattresses… love fades.
Don't worry. It happens to the best of us. 
Whether you received your mattress as a gift and were never in love with it in the first place, slowly watched it sink in over time, or evolved your sleep preferences away from it, sooner or later, something must be done. 
So, do you instantly begin the search for a new mattress? You certainly could! In fact, we know a great place to start. However, this is far from the most cost-effective solution, especially if your issues boil down to improving the firmness, softness, or temperature of your mattress.
At Silk & Snow, we feel the best way to reignite the spark between you and your mattress is a perfect mattress topper.
Silk & Snow's Organic Mattress Topper
Infuse Support and Comfort into Your Mattress
Our Premium Organic Mattress Topper

100% GOLS Certified Organic Latex
Cover made from 100% GOTS certified organic cotton
2 firmness levels available: medium and firm
Made in Sri Lanka
Shop Now
Your Mattress, Crowned: Is a Mattress Topper Right for You?
Mattress toppers (or mattress pads) provide extra support for the body while sleeping, improve the lifespan or comfortability of an existing mattress, and can alter the feel of a mattress by making it either softer or firmer. Much like the purchase of a mattress, we recommend researching to find out which mattress topper is perfect for you.
Mattress toppers are typically purchased due to one or more of the following factors:
Your mattress is too firm 
Your experiencing increasing discomfort with your mattress 
Your mattress sleeps too hot
Your mattress is caving in on you while you sleep
You built a mattress that needs a top layer
Your mattress is inflaming your allergies  
Though there are several different types of mattress toppers, their quality will vary depending on the material within them. The two most favoured and in-demand forms of mattress topper material are: Memory Foam and Latex.
​​The popularity of Latex and Memory Foam toppers is no accident, as they both contain multiple factors that provide an excellent sleep. In this case, it is less a question about which mattress topper is better, rather which mattress topper is better for you!
Both Latex and Memory Foam toppers are similar upon first glance – soft, airy, and dense. They also contain several overlapping benefits, such as support for back and neck pain, as well as providing exceptional durability.
In order to ensure you find the mattress topper that best suits you, we've shed some light on the benefits and differences between Memory Foam and Latex mattress toppers.
Memory Foam Mattress Toppers
Memory foam is a synthetic material consisting of polyurethane and other chemical compounds used to significantly increase its density and energy absorption. It was first utilized in the 1960's by NASA to protect their pilots. This material very quickly became a favourite among those who tend to sleep colder and more restlessly. 
Deciding on a Memory Foam topper will ultimately come down to a number of individual sleep preferences. For instance, there are many sleepers who enjoy, and sometimes require, the exceptional motion isolation, cushioning, and compression Memory Foam toppers provide. 
Due to this innate padding and restrictive nature, this topper is ideal for those who are light sleepers (especially next to a partner!), have neck or back pain, and require proper weight distribution.
Memory Foam mattress toppers are also known for being just as durable as a Memory Foam mattress itself. The proper Memory Foam topper is well regarded for lasting far longer than the average mattress on the market. 
Most people seek out mattress toppers as an inexpensive alternative to purchasing a brand-new mattress. Continuing that frame of mind, many people will turn to Memory Foam mattress toppers as they are often less expensive than Latex toppers. Though many feel investing in a Latex option is worth it in the long run, there are others who will be more than satisfied with a durable Memory Foam topper.
Latex Mattress Toppers
Latex mattress toppers differ from Memory Foam toppers in several crucial ways. While Memory Foam is completely synthetic, Latex is derived from the sap of rubber trees, allowing for a 100% natural material. Naturally, this topper has proven to be a popular choice for those looking for a more eco-friendly and sustainable option.
However, the "purity" of a Latex topper depends on its production, as there are various forms of Latex that significantly impact the quality and sustainability of a topper. Some popular categories of Latex include:
Dunlop Latex

: Dunlop is one of two forms of natural latex commonly used in mattress toppers. It's well-regarded for the support, density, and durability it provides the sleeper.

Talalay Latex

: Another form of natural latex, although with slightly more filling and processing. Talalay has a softer, pillowy feel to its topper. Though not as supportive and durable, Talalay is much softer and less dense than Dunlop. 

Blended Latex

: Commonly a mix between natural latex and a synthetic additive. A more inexpensive option that lacks the durability, purity and sustainability of its counterparts.
Other types of man-made mattress toppers, such as Memory Foam, or Synthetic Latex, often contain soaps and certain contaminants that inflame allergies. Conversely, it is extremely rare to have an allergic reaction to natural latex options, such as Dunlop or Talalay.
The synthetic formulation of many Memory Foam toppers often give way to a typical "new mattress smell" also known as "off-gassing." While many have purchased and subsequently returned their Memory Foam toppers due to this odour, this is simply not an issue for Latex toppers.
The difference in material allows for two very distinctive feelings when examining the mattress toppers. Compared to the moldable and somewhat restrictive cushioning of Memory Foam, Latex toppers allow for a much greater bounce and breathability. This inherent elasticity allows for exceptionally greater movement and recovery time – allowing one to rest atop their mattress, rather than within it. Furthermore, this fact ties directly in the durability of Latex toppers, as the material naturally resists sagging and deterioration over time.
Beyond their comfort and elasticity, Latex mattress toppers (especially Dunlop) are known for being the most durable type of mattress topper on the market, sometimes lasting up to a decade longer than their counterparts. Though the price for Latex toppers are usually higher than Memory Foam, most will turn towards a Latex topper as a meaningful and alternative investment.
Final Verdict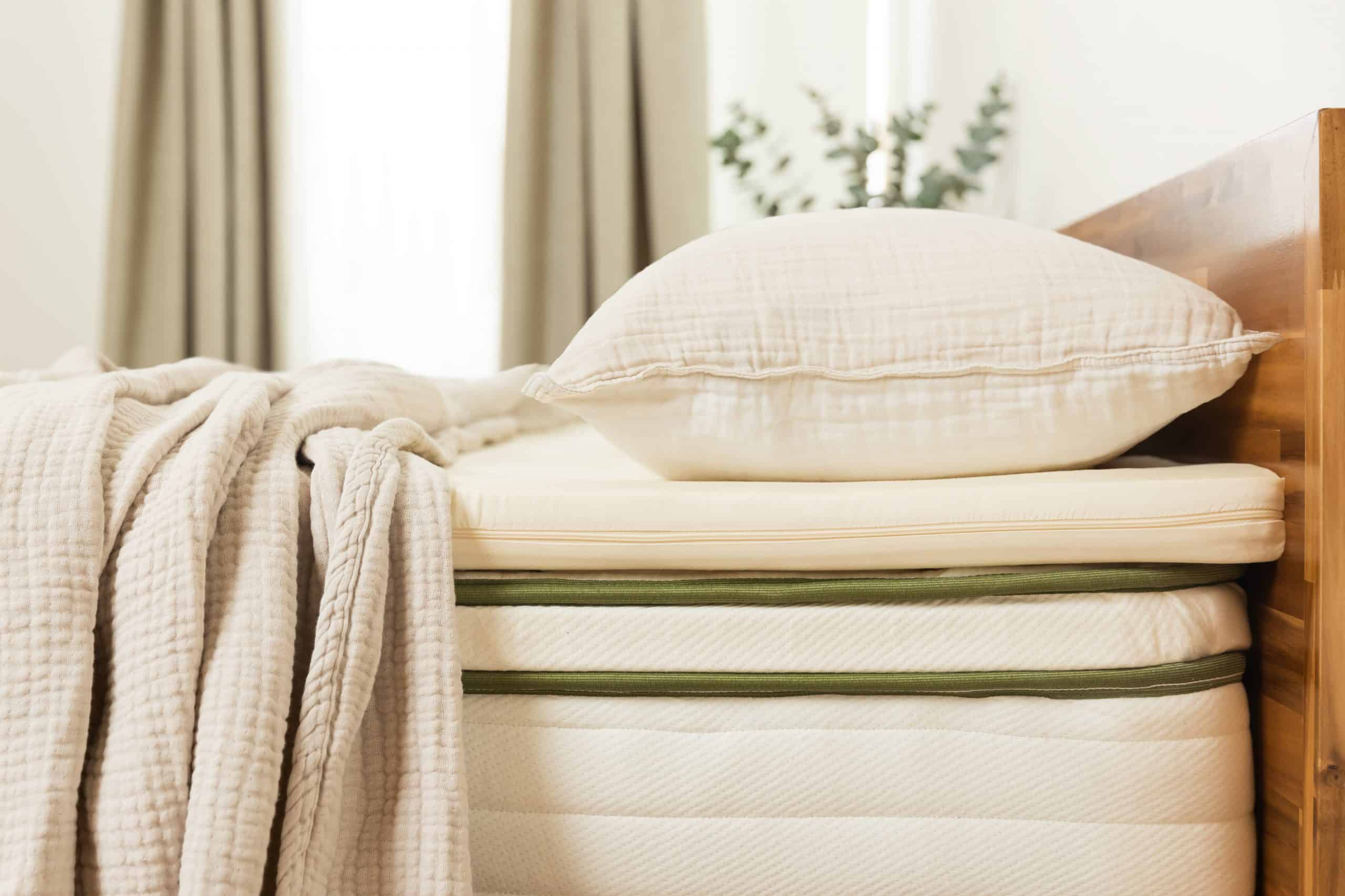 A Latex foam mattress topper is the best option for those looking for a mattress that is eco-friendly, has a faster response time, and contains greater bounce and durability. While Memory Foam is better for sleepers who need motion isolation, a slower response time, and greater compression support.
How We Compare: The Silk & Snow Latex Topper
For our very own mattress topper, the choice was obvious: it needed to be Latex. 
At Silk & Snow, we constantly strive towards sustainability, and with latex being an organic material, the choice was as natural for us as the material itself. 
We chose to utilize Dunlop Latex to allow for a comfortably firm mattress topper with exceptional bounce – protecting everything underneath it and providing comfort to everything above it. This bounce "response-time" ties directly into the durability and lifespan of the topper itself, with latex toppers being known for lasting far longer than their memory foam counterparts.
Along with avoiding any Memory Foam "off-gassing", our Latex Topper comes with a removable cover made from 100% cotton, allowing for an elegant and unobtrusive addition to your bedroom. 
Beyond sustainability and durability, we also aim to imbue our products with a level of universality. It is with that in mind that we wanted to lean towards Dunlop latex, which tends to sleep cooler than memory foam. When it comes to regulating sleep temperatures, we at Silk & Snow know it's far easier for sleepers to warm up than cool down. That's why by utilizing Dunlop Latex in our toppers, we can guarantee a natural feel alongside a firm, cool, and breathable sleep.
In designing our new Latex mattress topper, we wanted to ensure it was made with the same quality, transparency, and sustainability as our mattresses themselves. That's why we ensured our Latex Mattress Topper is crafted locally with both Global Organic Latex Standard and GOTS certifications. Meaning you can rest assured that you're being supported by a thoughtfully crafted, sustainably made, and unequivocally durable mattress topper. Ultimately, personal preference will dictate whether or not our Latex topper is ideal for you. At Silk & Snow, all we hope is that we were able to help you find the mattress topper you've always dreamed of.
Categories
S&S Mattress

Best Memory Foam Mattress
S&S Hybrid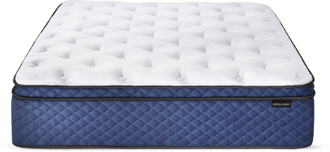 Best Hybrid Mattress
S&S Organic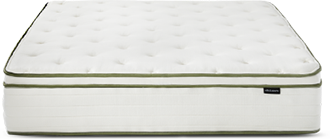 Best Organic Mattress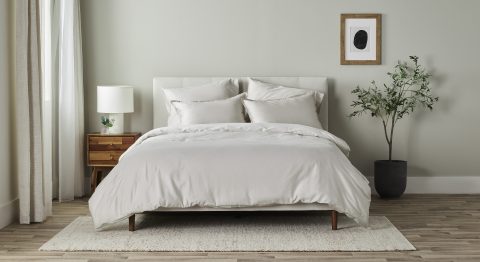 How we expand our product offerings as one of Canada's fastest growing sleep brands