It all started with a sweet dream in 2017. Beginning with a single Kickstarter campaign, Silk & Snow has diversified its product offerings every year to grow into one of the fastest growing bedding brands in Canada. 
Our Story So Far
2017: We started from humble beginnings, with our S&S Mattress, pillow, and mattress protector.
2018: After the success of our first mattress, we launched our second, now best selling mattress: the S&S Hybrid. 
2019: This was a monumental year for us as we expanded into furniture and launched our first bed frames, along with our first set of sheets.
2020: We made a stronger commitment to our sustainability principles and launched our Organic Mattress, made completely from natural materials.
2021: Continuing our commitment to sustainability, we launched our all-natural Wooden Bed Frame and expanded our sheets collection into linen and muslin.
2022: Prioritizing our customer's experience, we launched a mattress topper to give old mattresses new life, percale cotton sheets for a cooler sleep, and a new bath collection, including terry and hammam towels, bath mats and bath robes.
So, where do we go from here?
We sat down with Yvonne Chiang, our Director of Product and Claire Spring, our Marketing Lead, Visual to chat about how we continue to diversify our product offerings as an exponentially growing brand. 
What inspires the creation of new products?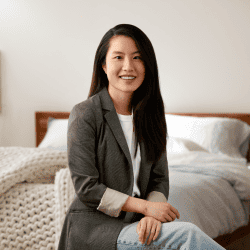 Yvonne: When it comes to growing our product selection, we do it mindfully. In our business, product expansion is exponential, so we're very careful when creating products to avoid producing unnecessary waste.
Product development is a collaborative effort, and that includes our partners as well. Partnering with craftspeople who care about quality in the same ways that we do is how we create beautiful, unique products that are built to last for years to come.
We also take our customer reviews seriously so that we can continue to create products that people will actually want to buy in their journey to build a beautiful home. Living in a better world means the products we create need to be better too. 
What are the most important values to Silk & Snow when creating products?
Yvonne: Thoughtfulness is at the core of everything we do, and is central to our product development. During all stages of our production, we stand by our core values: transparency, conscious manufacturing, and using better materials to create lasting products your home deserves.
I think what sets us apart is that we hold our suppliers at a higher standard. This includes picking partners that are as mindful about waste and materials as we are, and having regular check-ins to make sure their manufacturing processes are up to par.
It's most gratifying being able to see the product come to fruition. It can be a long journey, especially when so many partners and team members are collaborating and putting in creative energy. That final product is always extremely satisfying to see and be a part of.
How are colours and styles decided?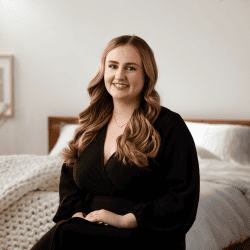 Claire: We carefully curate all of our colours to make mixing and matching easy. A large part of my role involves making sure all our product collections flow together cohesively to maintain a timeless look.
It's also important to us that we build our products to last, so we want people to cherish our products for a long time. If a style or colour is too trendy, then our customers might not feel inclined to keep them past a season. Part of being a sustainable bedding brand is creating textiles that will last and be loved for a long time.
I think another aspect of what sets us apart is that we always want our products to be aspirational, which drives a lot of the aesthetic decisions we make. Creating products that are timelessly beautiful is important to us.
Yvonne: Also, sometimes it can be expensive to get the elevated aesthetic that you want. We want to bring these luxury styles to a more accessible price point. Most importantly, shopping sustainably shouldn't always mean spending more – we want to make sustainable choices easier for our customers. It's important to us that people can have a beautiful home, without breaking the bank.
What motivates you to produce high-quality products?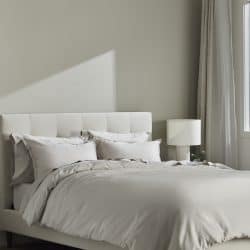 Claire: It's honestly very simple. We ask ourselves, what would we want in our own homes? If it's not something we believe in full-heartedly, we won't sell it.
We all want products that are built to last, and we all want to know exactly what we're sleeping on. That's why our product team regularly tests prototypes to ensure that everyone is satisfied with them. For us, it's important to balance materials with how the product feels, and how long it'll last. User experience and practicality are a top priority.
Yvonne: Creating high quality products doesn't only involve the final product. We're very resource conscious and recognize the total impact that we have on the environment. So when we're designing packaging dimensions or choosing materials, we're also thinking about how we can keep carbon footprints to a minimum. If there is an option to use off-cuts, implement recycled materials, or stay as close to the supply chain as possible, we prioritize those as well. 
It's also why we rely heavily on third party certifications when creating new products, so that we know we're always using materials that are certified to be safe. So when you're enjoying the comfort of your home, you can rest easy knowing the planet is being taken care of too. 
What's next? 
Yvonne: We're moving! Not out, but in. As we grow and elevate ourselves as a lifestyle brand, we're opening the doors to bring thoughtfully made products to more areas of your home. 
Claire: We're excited to evolve into a lifestyle brand that brings our dedication to quality and craftsmanship to every corner of your home. Our passion for creating beautiful, functional, and resource-conscious products remains as strong as ever, and we can't wait to share them with you as we move forward!
Stay up to date with our journey here.
Categories
S&S Mattress

Best Memory Foam Mattress
S&S Hybrid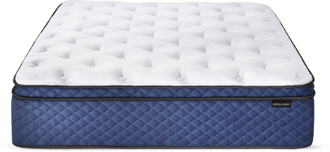 Best Hybrid Mattress
S&S Organic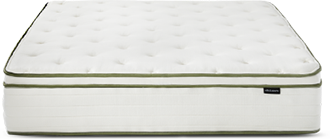 Best Organic Mattress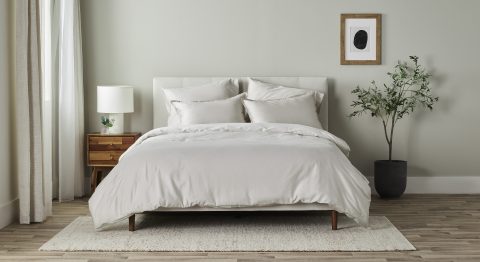 How we expand our product offerings as one of Canada's fastest growing sleep brands