This post is the third part of a series on the four most common mattress sizes—twin, double, queen and king—on the market. You can also read our entire Bed Sizes Canada: Mattress Dimensions and Size Guide.
Thinking of buying a queen mattress—the most popular mattress size—but don't know where to begin? This post is for you. In a nutshell, the queen mattress is best for individuals who tend to sprawl out or couples who like to sleep comfortably. If that sounds like you and/or your special someone, just remember that it's meant for a master bedroom, but you should have no problem getting it to fit in most rooms.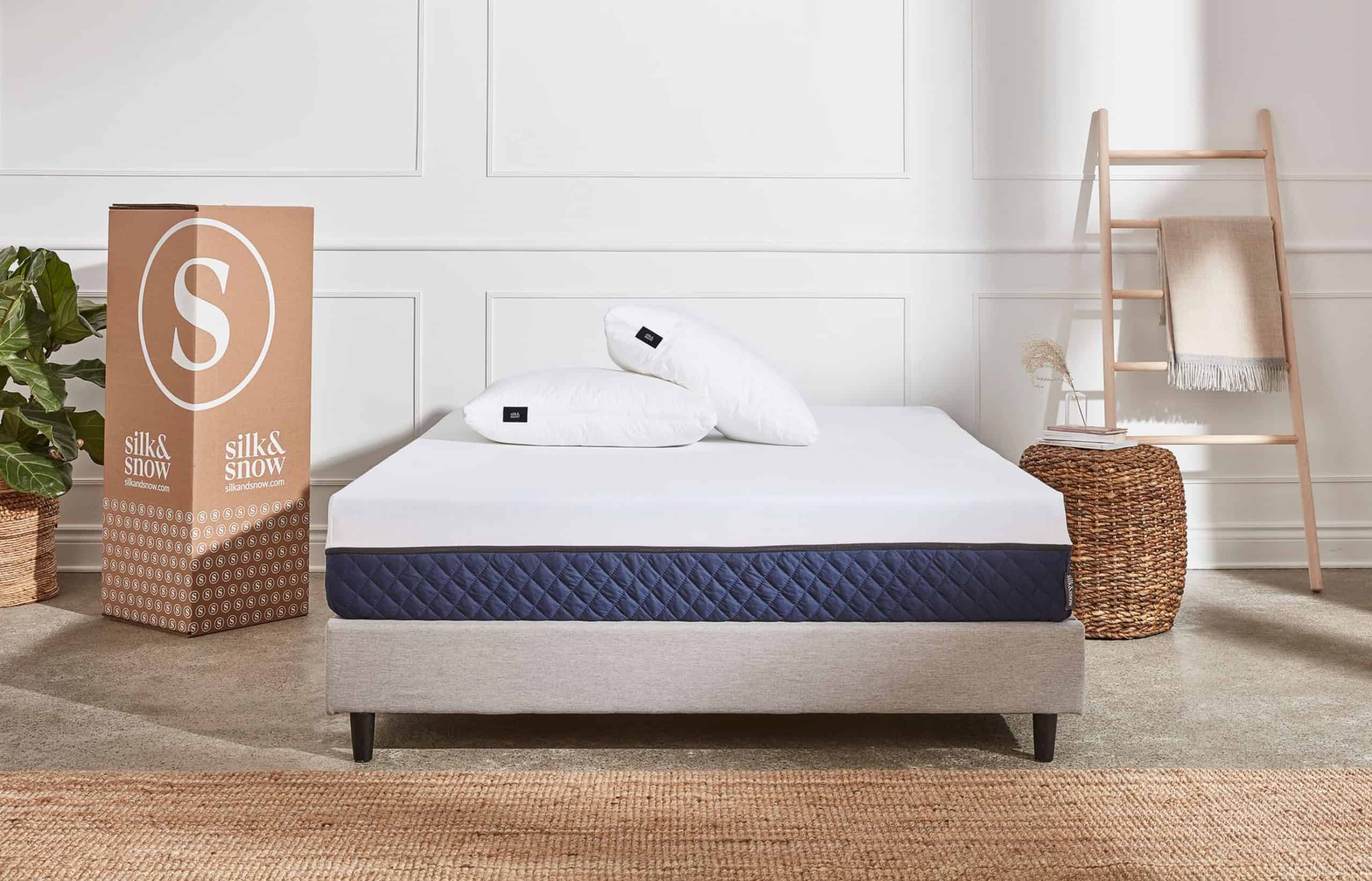 You can use a well-loved formula called The Golden Ratio, which means three to one, to figure out exactly how large your bedroom needs to be. Yes, designers have a few tricks up their sleeve. Case in point: a queen bed runs about 5 x 6.67 in width and length, which takes up about 33 square feet. This means your room should ideally be about 100 square feet (10 x 10).
What are the dimensions of a Queen size bed?
Queen size bed dimensions in feet: 5 feet x 6.67  feet
Queen size bed dimensions in inches: 60 inches x 80 inches
Queen size bed dimensions in cm: 152.4 cm X 203.2 cm
Comfortably fits: 1 person with a pet OR 2 adults, no pets
Great for single sleepers who enjoy moving around, spreading out, or sleeping with a pet, two sleepers who can each move around comfortably.
Not so great for smaller master bedrooms, two sleepers where both individuals like to spread out when they sleep or wish to sleep with their pets. 
Silk & Snow Mattresses

Providing back support and pressure relief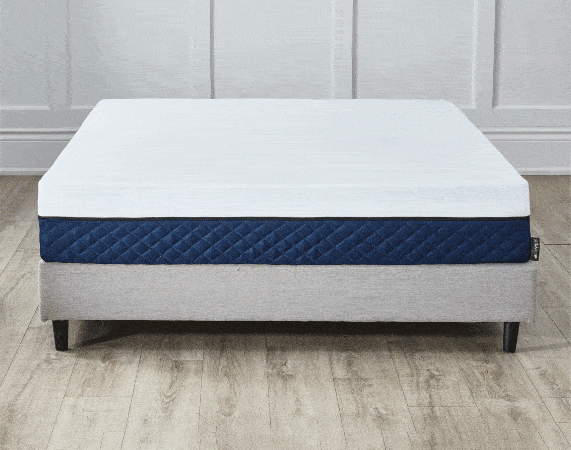 S&S Mattress:

Premium 4 lb memory foam for unmatched support and pressure-point relief
Firmness rating: 6.0

Hybrid & Organic Mattresses:

Pocketed coil zoned support for optimal spinal alignment
Firmness rating: 6.8-7.0

Price: $650 - $1700
Shop Mattresses
What are the dimensions of a Queen size Murphy bed?
If you are short on space but set on a queen mattress, you might want to consider a queen size Murphy bed, which is the same size as a regular queen bed, but designed to fold up into a wall. Hence the moniker: wall bed. It's also known as a fold-down bed or pull-down bed.
Believe it or not, the Murphy bed was invented by a man named William Lawrence Murphy, who came up with this space-saving solution just so he could have a date. Oh, the things we do for love. He was living in a studio apartment in San Francisco, but it was 1900, so inviting a woman into a man's bedroom was frowned upon. He tucked the bed away into his closet, freeing up floor space to woo an opera singer. And it paid off! The woman became his wife and Murphy beds are so popular that they are a staple of pop culture. You can find them in everything from the 1967 James Bond film You Only Live Twice to Three Stooges shorts and Disney movies. These days, there are many Murphy beds that blend in beautifully with the rest of a room in the form of a bookcase, cabinet or storage system.
Once you've settled on a queen size bed, consider our stylish bed frames to round out the set!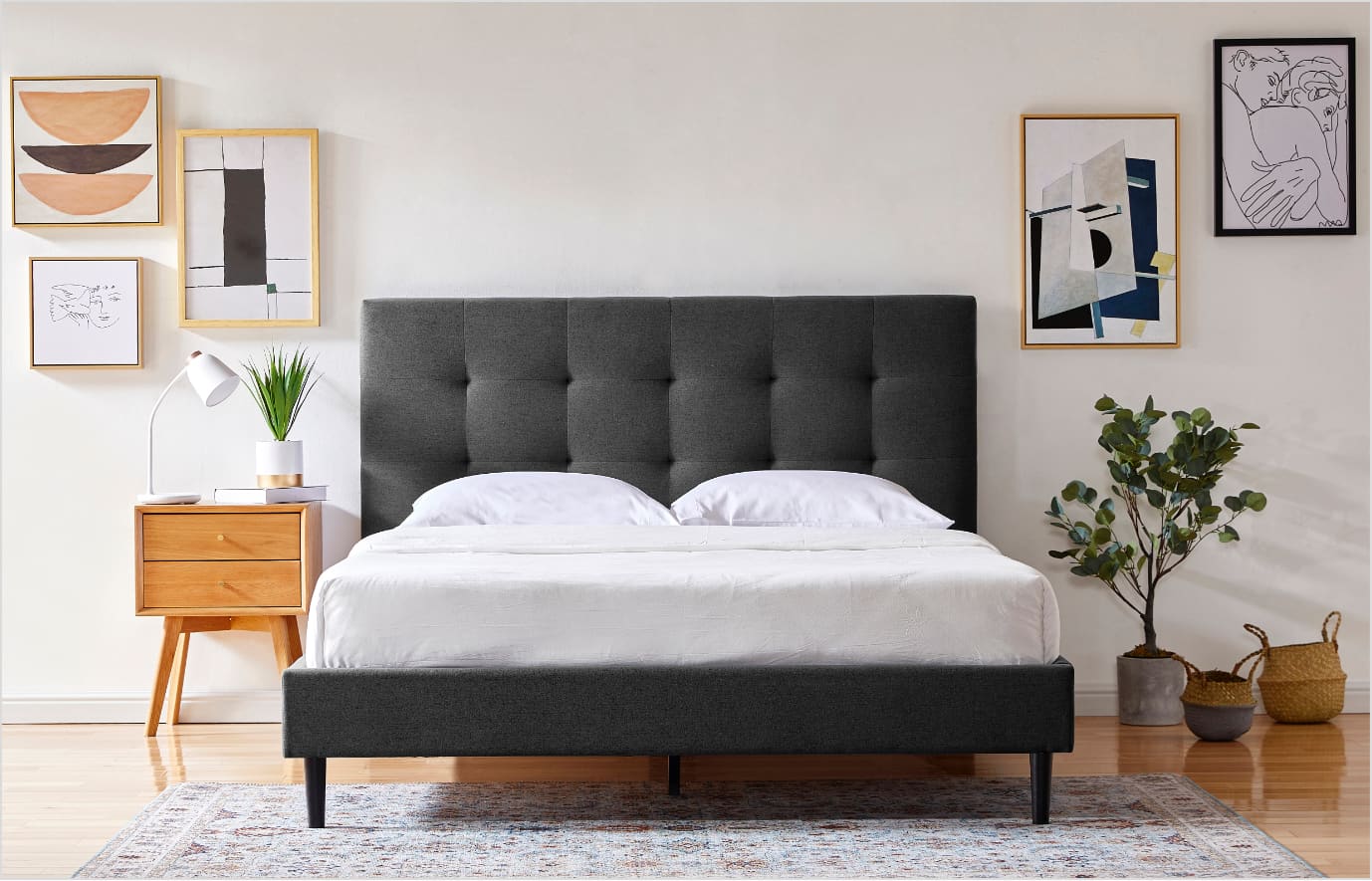 Bed Frame Dimensions – What are the dimensions of a Queen size bed frame?
---
Queen size bed frame dimensions in inches
Platform bed: 80" W x 60" L
Bed frame with headboard:  86" W x 64" L
Storage bed: 86" W x 64" L
---
Queen size bed frame dimensions in cm
Platform bed: 203.2 cm W x 152.4 cm L
Bed frame with headboard:  218.44 cm W x 162.56 cm L
Storage bed: 218.44 cm W x 162.56 cm L
---
Queen size bed frame dimensions in feet
Platform bed: 6.67 feet W x 5 feet L
Bed frame with headboard:  7.17  feet W x 5.33 feet L
Storage bed:  7.17 feet W x 5.33 feet L
---
Eyeing our cozy bedding too? Here's our queen size bed sheet dimensions in inches.
| | |
| --- | --- |
| Bedding | Dimensions |
| Flat sheets | 90″ x 102″ |
| Fitted sheets | 60″ x 80″ x 15″ |
| Duvet cover | 88″ x 88″ |
| Pillowcases | 20″ x 30″ |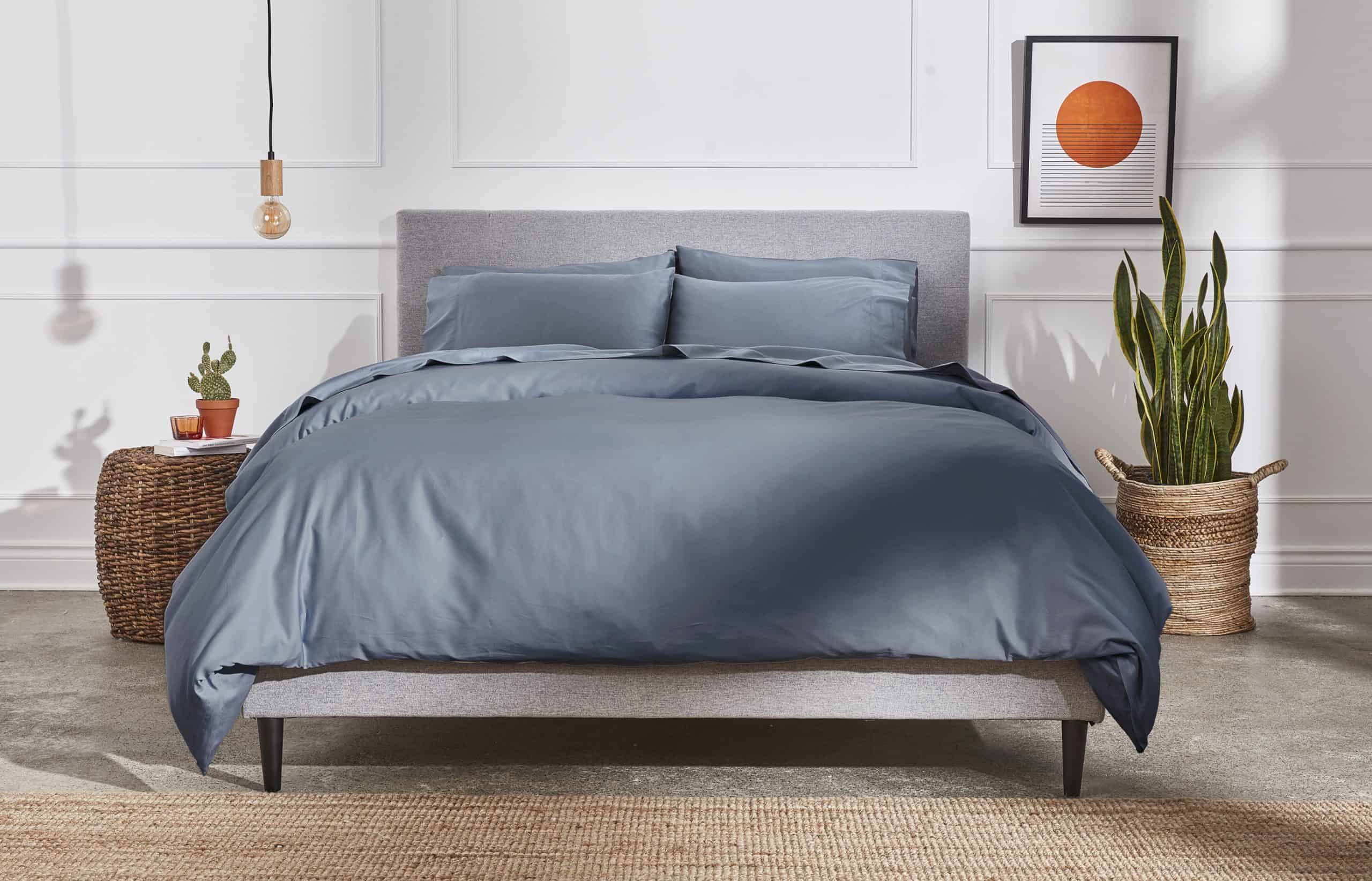 We hope we've answered all your burning questions about queen size bed measurements. If you would like something wider, be sure to check out the fourth and last part of our series, which will look at the king mattress. 
Apart from bedroom size, we also recommend you consider other factors—personal sleeping preferences, body size and budget—before making a decision. Keep in mind that with Silk & Snow mattresses, you don't need to sacrifice support for size. Our mattresses are made with the same composition of materials within each model. This means you'll get the same thickness, firmness, and support, regardless of size. 
We're committed to helping you sleep at your best, every single night.
Sweet dreams.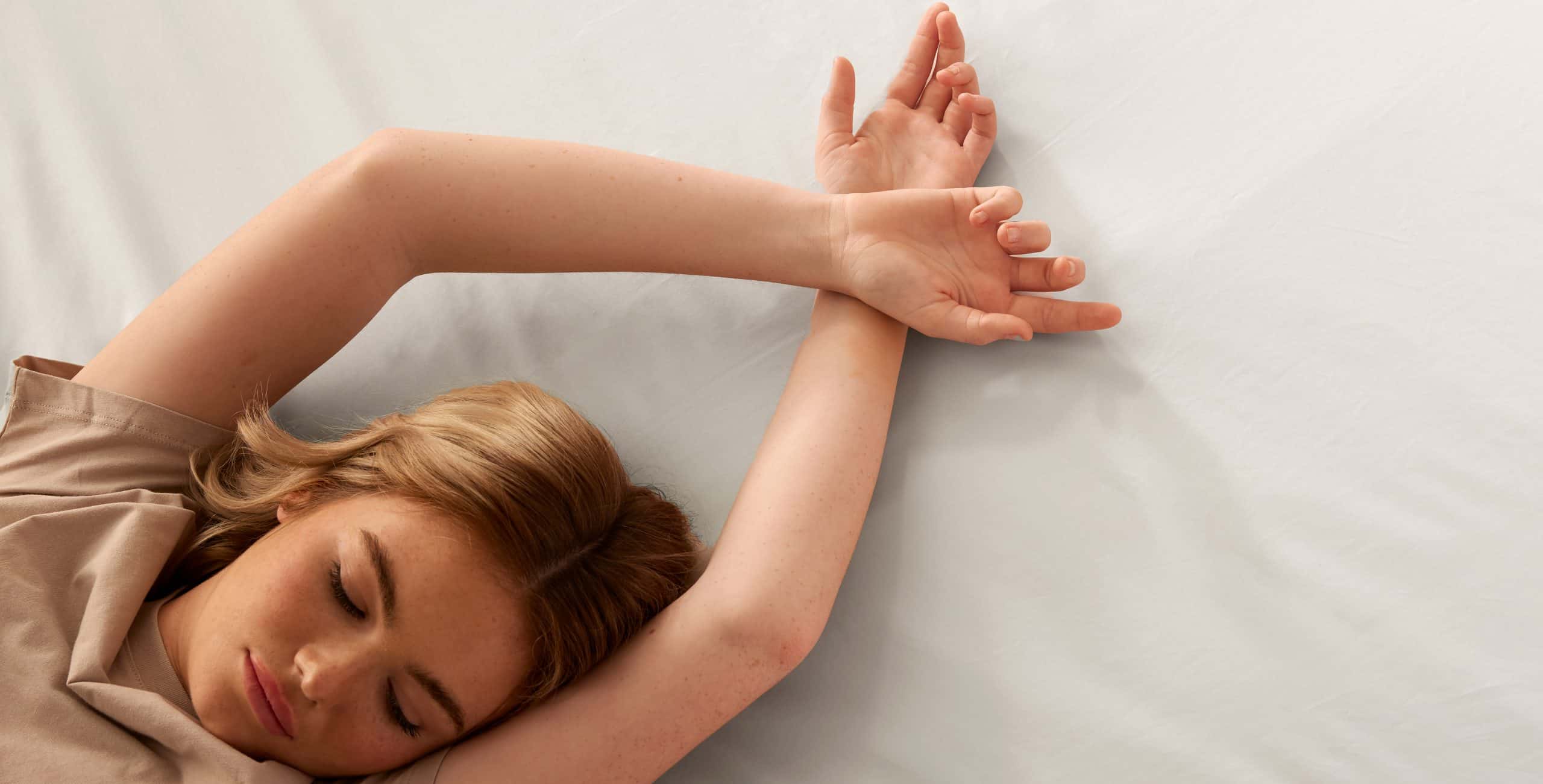 Categories
S&S Mattress

Best Memory Foam Mattress
S&S Hybrid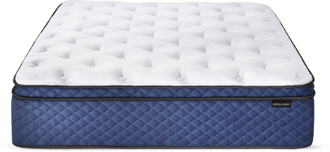 Best Hybrid Mattress
S&S Organic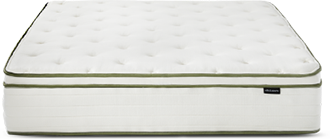 Best Organic Mattress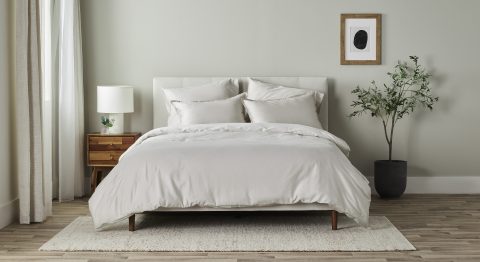 How we expand our product offerings as one of Canada's fastest growing sleep brands