Weighted Blankets (also known as Gravity Blankets) have seen a recent surge in popularity due to a bevy of health and wellness benefits. Some of these benefits include combating stress, reducing anxiety, and maintaining an uninterrupted night's sleep.
The Gravity of Weighted Blankets
Despite positive word of mouth, it may come as a surprise that not all weighted blankets are crafted equally; they vary in content, material, weight, and style.
This variety has led to some customers who feel their weighted blanket promotes poor sleep patterns rather than alleviates them. 
Beyond consumer mistakes such as choosing the wrong weight or size, many weighted blankets currently on the market tend to sleep hot, tear-open, and become awkwardly misaligned during sleep. This is because many of these weighted blankets are made entirely of non-breathable synthetic materials like polyester, as well as fill materials that further trap heat like glass beads, rice, or sand.
These materials and subsequent design can often defeat the purpose of a weighted blanket – to provide you with a calm, comfortable, and stress-free sleep!
Naturally, we thought we could do better.
Silk & Snow Knit Weighted Blanket:
Comfort for the body. Eye candy for the home.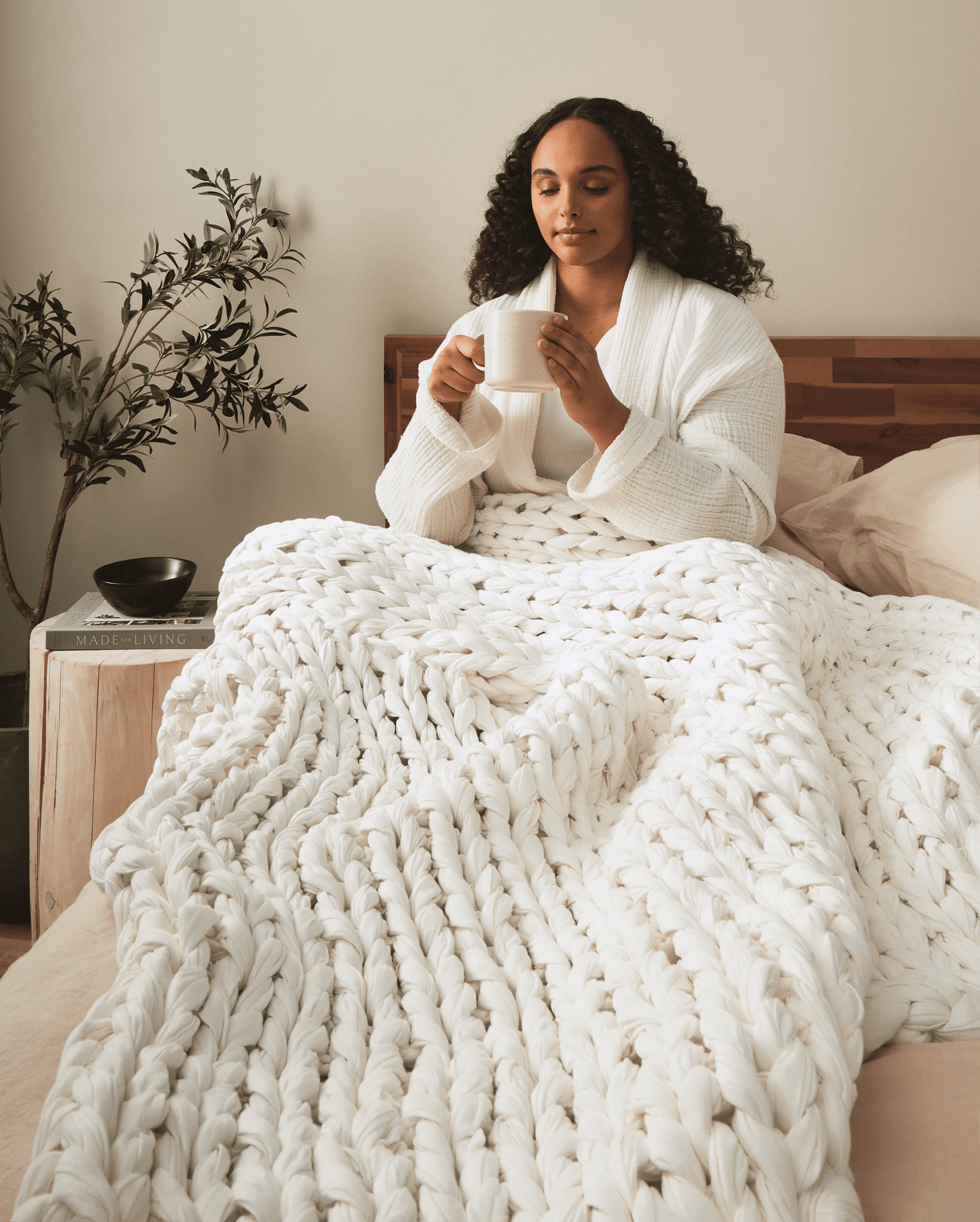 Hand-knit design made of breathable & cool cotton
Travel Sizes:
Kid Sizes:
Adult Sizes:

15lbs (42" x 72")
20 lbs (48" x 72")
25 lbs (51" x 72")

Price: $160 - $320
Shop Weighted Blankets
Silk & Snow Weighs In: What We Learned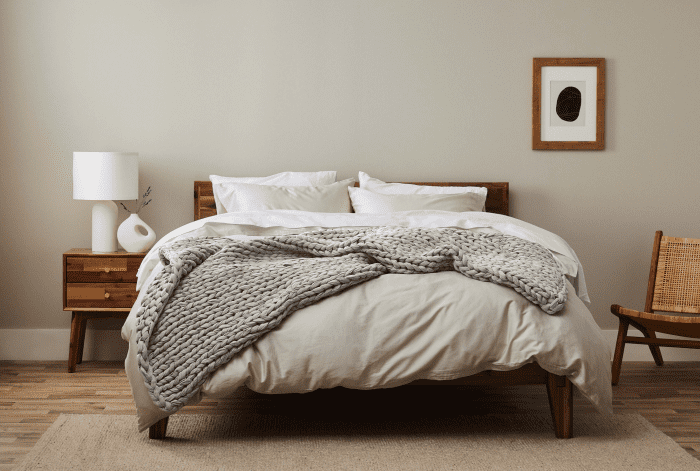 For us at Silk & Snow, upholding the comfort and wellbeing of our customers meant more than simply recreating the most popular weighted blanket on the market. We needed to aim higher and create the perfect weighted blanket. 
We looked at the issues customers were experiencing with their weighted blankets and asked ourselves how a Silk & Snow weighted blanket could improve on it both aesthetically and functionally. 
We knew that the weight of our blanket had to be as a result of fabric density as opposed to a troublesome bead-like filling. With this knowledge as a starting point, we were able to experiment with more luxurious construction methods.
This revealed itself in utilizing a 100% cotton knitting method for the construction of our blanket, as well as maintaining a dense all-fabric construction to ensure an evenly distributed weight and structure. The best part about the design of our weighted blanket is that what makes it more functional and comfortable to you also makes it more beautiful – the hand-knit design!
With our weighted blanket, we aimed to build upon the shortcomings of our competitors, the needs of our customers, and the potential of the product itself to create something we're truly proud of.
It is through these standards that we've crafted a truly stress-free, sustainable, and uniquely beautiful hand-knit weighted blanket.
A Hand-Knit Hug: Bye-Bye Pesky Beads!
Bead-filled weighted blankets often have a deflated, drab-like look to them that resembles a sleeping bag more than it does a beautiful bedroom piece. We wanted our weighted blanket to capture the level of elegance and pride that we strive for within all our products without sacrificing its benefits. 
Oftentimes an increase in beauty means a decrease in utility – in this case, we were able to increase both in a way that simultaneously reinvents the weighted blanket.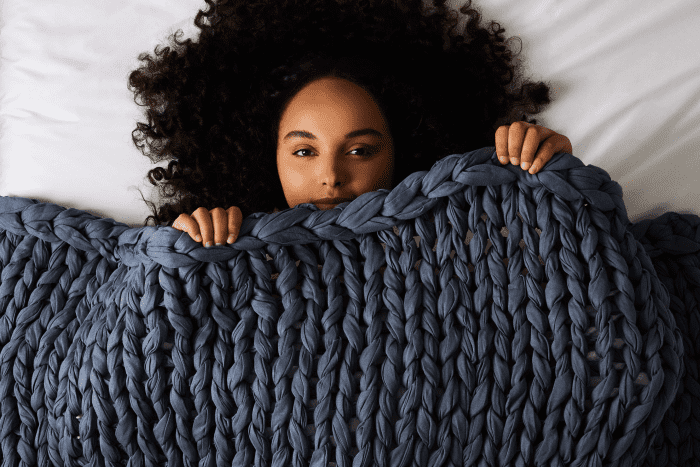 Simply put, by utilizing a hand-knit method to craft our weighted blanket, we've been able to ensure that the weight derives from the density of our beautiful natural material rather than fickle beads or sand. In doing so, the natural and stunning beauty of our weighted blanket is a by-product of its very own effectiveness. Crafted in a variety of weights and colours, we feel we've created the most striking, tailor-made, and supportive weighted blanket on the market.
Weighted blankets offer deep touch pressure similar to a massage, encouraging the release of "feel good" hormones (oxytocin) and lowering stress hormones (cortisol). While many might seek a weighted blanket for its therapeutic effects, we wanted to offer a blanket that doesn't look clinical. 
We've opted to carry over the calming effect into the organic aesthetic and natural feel of the blanket, which are areas often overlooked by other weighted blankets on the market yet arguably equally as important factors in reducing stress. 
Built-In Ventilation: A True Canadian Weighted Blanket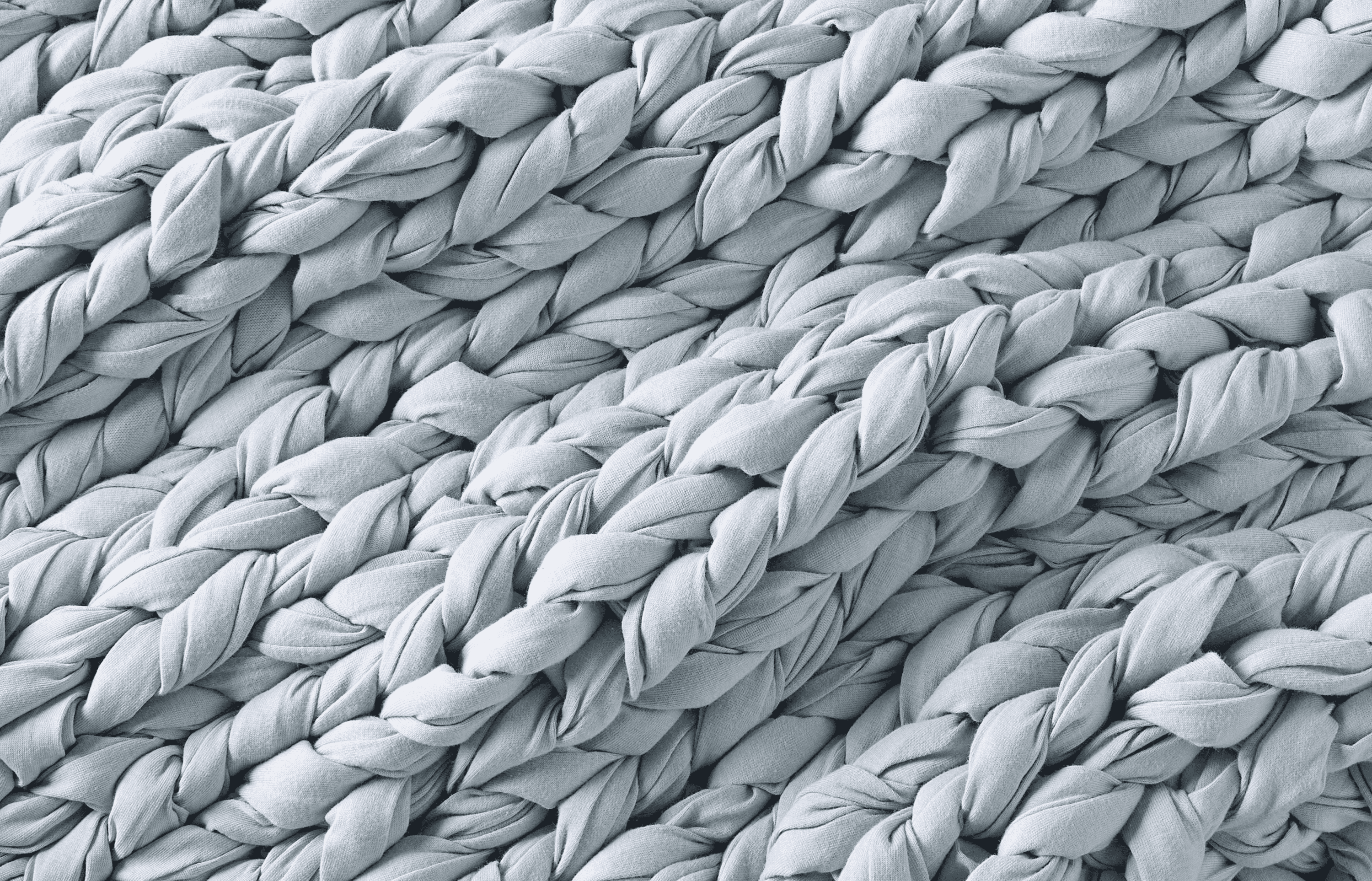 Using a weighted blanket should not be synonymous with overheating, that's why, beyond retaining weight and improving aesthetics, we aimed to craft a weighted blanket with built-in ventilation! 
Duvet-style (bead-filled) weighted blankets, even one's with corner-ties or square-stitching, tend to bunch up internally, leak, or come undone. These issues can amount to a shapeless and uncomfortable mass that leads to further heat-trapping and the sound of noisy moving beads.
As a knitted blanket design could simultaneously improve the look and retain the weight of a traditional weighted blanket, we realized the same is true with ventilation.
Cotton is a natural fibre, and therefore is great for temperature regulation and improved breathability. We've coupled this with our hand-knitted construction for the blanket, which naturally allows airflow in and around each loop and lets you chill out, literally. The size and weight of the blanket will keep you cozy without the sweats.
Another disadvantage of conventional weighted blankets we aimed to rectify is having to wash a blanket filled with materials that are prone to leakage or cannot be submerged in water at all. Our beautifully knit blanket is 100% fabric, meaning it can easily be put into the washing machine when it comes time to clean. 
The Silk & Snow Weighted Blanket
Now that you know what the Silk & Snow weighted blanket is and why it's the best option for hot sleepers looking for a change or for those simply looking for a new and beautiful blanket, take a look at which colour and weight will make your home look as cool as you'll feel.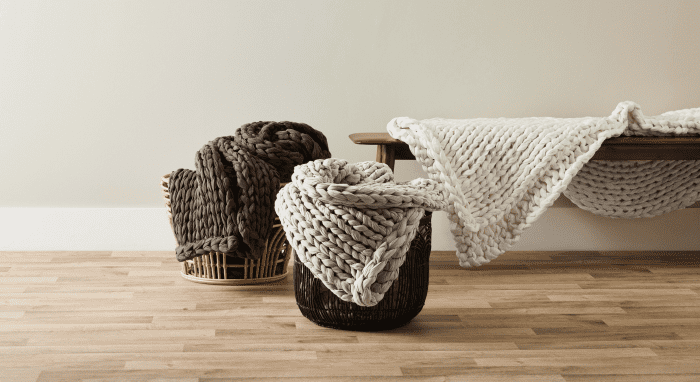 Categories
S&S Mattress

Best Memory Foam Mattress
S&S Hybrid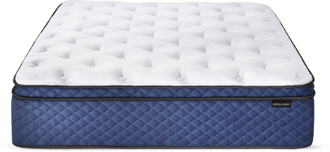 Best Hybrid Mattress
S&S Organic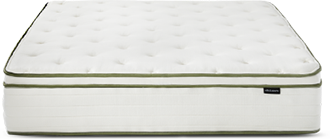 Best Organic Mattress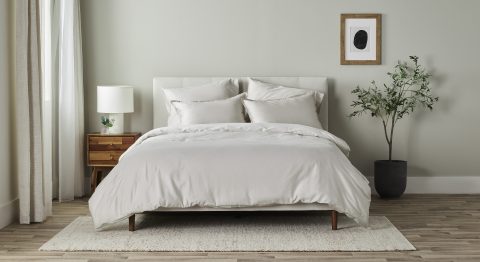 How we expand our product offerings as one of Canada's fastest growing sleep brands