Sleep time is the best time, and those with children know this to be doubly true. If you're looking for a weighted blanket to help your kid (and yourself!) rest easy, let our guide help you make a decision. We've kept children in mind when designing the best weighted blanket for kids.

Silk & Snow Weighted Blanket:
Designed with kids in mind
Handwoven design made of breathable & cool cotton

Machine washable

Filler-free, meaning weight is evenly distributed and no choking hazards

All the features you love, at a kid-friendly & travel-friendly size:

Price: $180
Shop Now
We've created an extensive buyer's guide to help you find the best weighted blanket for children in Canada. Use this guide to help you form your own criteria:
Features
Child-safe
In lieu of plastic or glass beads to supply weight to the blanket, all of the weight in our weighted blanket comes from fabric. This means there are no risks of seams popping open and beads spilling out, which may lead to a choking hazard.
While it might be fun for younger kids to burrow themselves in their blankets when they sleep, this poses a suffocation hazard particularly when the blanket is weighted. The distinctive handwoven design is an aesthetic feature in addition to being a practical one. The holes between each loop allow for breathability to avoid any issues. With a blanket this snuggly, we can't blame kids for wanting to throw their blankets over their heads when they sleep.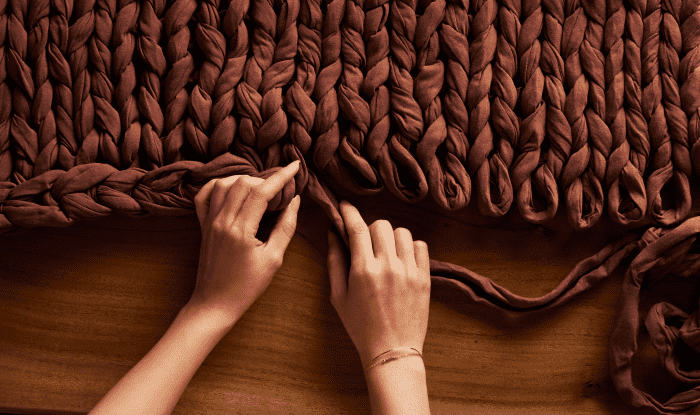 Chemical-free
We stand by our products and what goes into them. That's why we use OEKO-TEX® Standard 100 Certified cotton in the shell of our weighted blanket, meaning no harmful chemicals are used.
Machine washable
Our products are meant to be used, and with use that means stains, odours, and bacteria are bound to build up. That's why it was key for us to design a weighted blanket that could be easily cleaned. Not only are bead-filled weighted blankets potentially dangerous, the risk of having all those little beads leak out in the washing machine is also definitely something you don't want to have to deal with. Skip the nightmare and opt for a blanket that is fill-free. Your future self will thank you!
Evenly distributed weight
The S&S Handwoven Weighted Blanket gets all of its weight from layers and layers of fabric. This means there aren't any noisy beads to shift around as your child tosses and turns in the night. The fabric fill also keeps the weight equally distributed and balanced across your child so their whole body can reap the benefits of using a weighted blanket.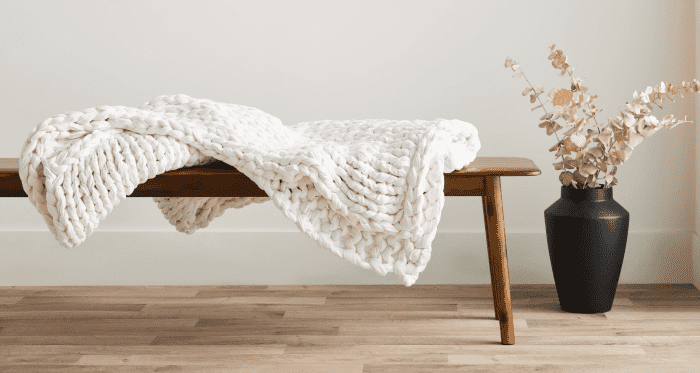 Kid-friendly colours
The S&S Weighted Blanket comes in 9 colours that are vibrant enough to appeal to children yet neutral enough to remain a mainstay as they grow, adding texture and comfort to their bed. They might outgrow your cuddles (sadly!) but the coziness of these blankets are irresistable at any age.
Sleeps cool
Whereas glass or synthetic pellets trap heat, cotton is a natural temperature regulator that allows for breathability. The unique woven design is an aesthetic feature in addition to being a practical one. Air can naturally flow in and around each loop so your child can sleep comfortably without waking up with cold sweats in the middle of the night.
Benefits
Weighted blankets have long been used by occupational therapists for children with autism, Attention Deficit Hyperactivity Disorder (ADHD), and sensory issues. Definitive research for benefits outside of these conditions is still limited, however children can still find comfort in weighted blankets for its release of:
"feel good" hormones
neurotransmitters that affect everyday mood
hormones responsible for regulating the sleep-wake cycle, including night owl tendencies of teenagers
certain neurotransmitters, a deficiency in which results in a feeling of lethargy and lack of focus
While you might be seeking a weighted blanket for its therapeutic effects, we wanted to offer a blanket that doesn't feel clinical. We've opted to carry over the calming effect into the organic aesthetic and natural feel of the blanket, so your child can feel like they're being tucked in and hugged throughout the night.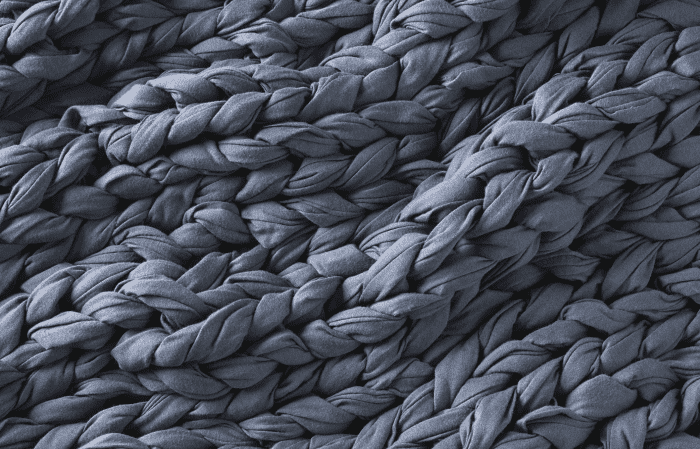 Find the weight best suited for your child
Despite its many potential benefits, parents are understandably cautious about introducing a weighted item for their child's use while largely unsupervised. The general guideline is to opt for a blanket that is around 10% of a person's weight, and this applies to children as well. While a blanket that is too light may not produce the desired effects, a blanket that is too heavy could increase a child's anxiety instead of reducing it. There is some flexibility for those looking at weighted blankets for adults, however for children we definitely do recommend strictly adhering to weight suggestions, even if the child is asking for a heavier weight. We recommend consulting a pediatrician for anyone looking to use a weighted blanket for children under 8, given their likely smaller size.
Find the size best suited for their bed
The bigger the blanket, the more that the weight will be spread out over a larger surface area and the less that your child will feel the intended level of pressure. This is a situation where bigger isn't necessarily better. Also keep in mind that extra weight from any overhang will ultimately pull the blanket off of the body in the night. Our kid-friendly size measures 38" x 60", designed to fit on a twin bed (38" x 75").
The Best Weighted Blanket for Kids
We understand that a weighted blanket is an investment and no matter how much research you do, it all goes out the window if ultimately your child doesn't enjoy it. We offer a risk-free 100 night trial period so you and your child can experience firsthand the wonderful benefits and see just why we're considered to have the best kids' weighted blanket. Give our S&S Handwoven Weighted Blanket a try and let us know what you think!
Categories
S&S Mattress

Best Memory Foam Mattress
S&S Hybrid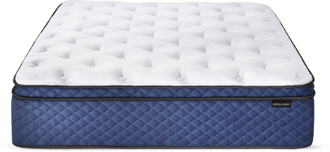 Best Hybrid Mattress
S&S Organic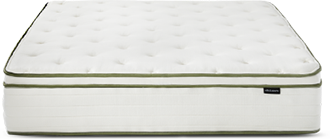 Best Organic Mattress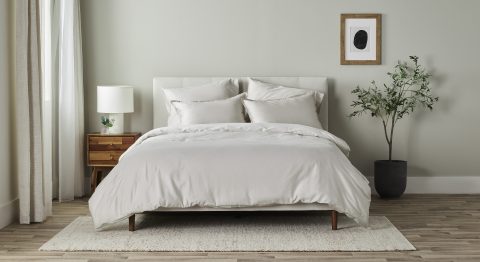 How we expand our product offerings as one of Canada's fastest growing sleep brands